In 1976 the Tresviso based cavers exploring Cueva del Agua (Nacimiento) located an unusual feature. After Colin Boothroyd scaled an 8m waterfall they found a deep sump pool immediately at the top of the climb. Inspired by Monty Python they named the cave passage the 'road to certain death' and the sump itself became 'certain death'.
Colin, followed by Terry Whittaker made attempted dives before Rob Parker made more serious attempts in 1985 and again in 1986 when he reached -64m and reported an ascending shaft leading on. Gavin Newman then took up the challenge of diving here which culminated in the 1996 trip where he made a film for the BBC's extreme lives series about diving the sump with Phil Short. The film was called 'the road to certain death' and features Gavin, Phil, Colin, Jim Thompson and Mark(?)
Since 1996 the sump has remained dived until this year when I was able to make an attempt to explore it thanks to an excellent team of cavers from the Tresviso Caves Project. The sump is located approximate 1 hour from the entrance but before I could dive we needed to re-climb the 7m water fall and rig ropes in this section. Then the heavy and bulky diving equipment was carried to the sump for me to dive. I was expecting a deep dive with significant decompression and chose to use a KISS Sidewinder with TMx bailout/dil. At the furthest point reached by the previous explorers the way on was clear to me, a tall rift which opened out quickly into a huge passage. After 200m of diving and route finding the passage had ascended to 6m depth where after completing my final deco stop I was able to surface in a medium sized lake. Following the cave upstream I soon encountered sump 2 which I passed after a 40m dive to reach a sizable dry chamber with several possibilities for future exploration including two deep pools which might be sumps. I headed out, completing a survey on the way.
Two days later I was back for a second look. Firstly I wanted to be 100% certain I'd not missed anything underwater in the first sump and secondly I wanted to see if the pools were infact sumps. One of these would be easily accessible, the other would need SRT kit and rope which I carried strapped to my cylinders. Swimming through the large clear sump in excellent visibility I'm very confident there's nothing I missed underwater. On the far side of sump two I was able to check out both deep pools and suspect one is in fact a sump. To do this I had to rig off naturals and abseil into the water in my drysuit. Transporting all my diving kit over on my own and diving this sump wasnt really feasible.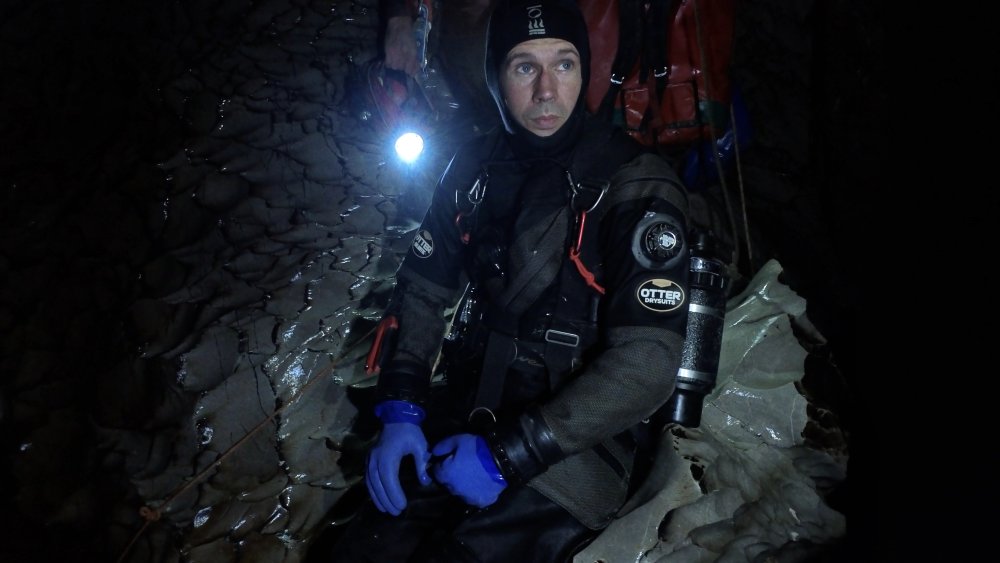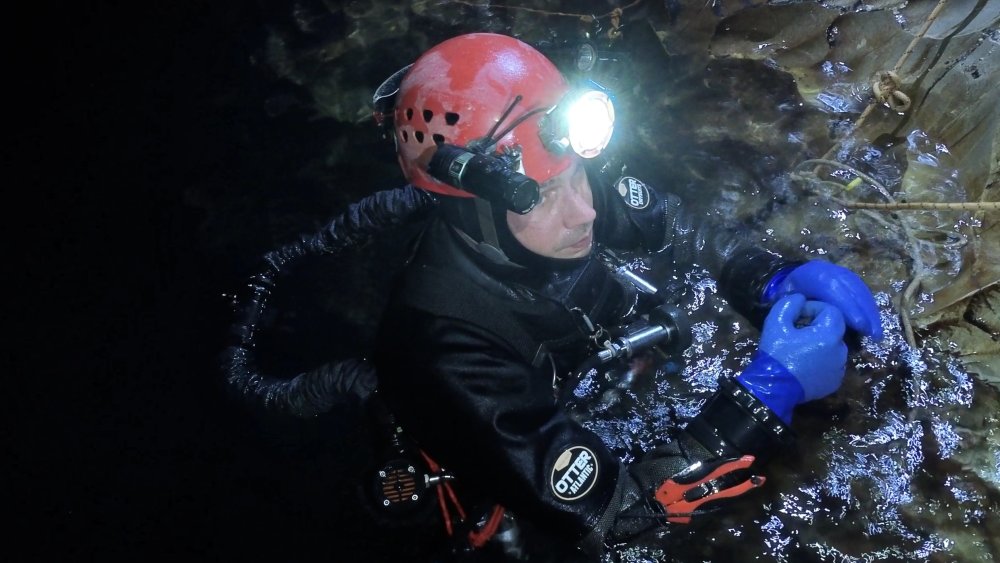 My other big dive in Tresviso was in Rio Chico. This site was explored in 1986 by Steve Jones who reached a depth of 62m with the passage still going down. To reach Chico it is necessary to walk in the Canal de Urdón for a short distance and fortunately in early September the water level was still low enough for us to get to the cave. A short and quite each carry underground saw us at the sump pool after about 15 minutes of caving.
The entrance to sump 1 is good dive base and I was ready quickly. Sump 1 was passed following the installed dive line and I then staggered fully kitted into sump 2, up a very small cascade.
I used a drysuit, Sidewinder rebreather and a pair of 12ltr bailout cylinders, one with a Y-valve containing TMx and the other with air. A 7ltr bottle of o2 was also carried and staged at 6m in the sump.
The visibility was a disappointing 4m in the large sump. Following the original blue polyprop line I descended quickly to -45m where S Jones old reel was encountered. This was collected and used until a depth of -80m was reached and the old line ran out. I attached a new reel here and ran out 90m of new line in a large passage which was clean washed with very few belays. The passage trended up to -65m before dropping steadily back down. I turned the dive at -79m after searching for a final belay to secure the line then surveyed back out of the cave. I completed approx. 2hrs of decompression with about an hour at 6m and a total dive time of 3hrs. Light kit was carried out of the cave and we all made a very slow ascent of the hill back to Tresviso, mindful of the long decompression dive I'd just completed.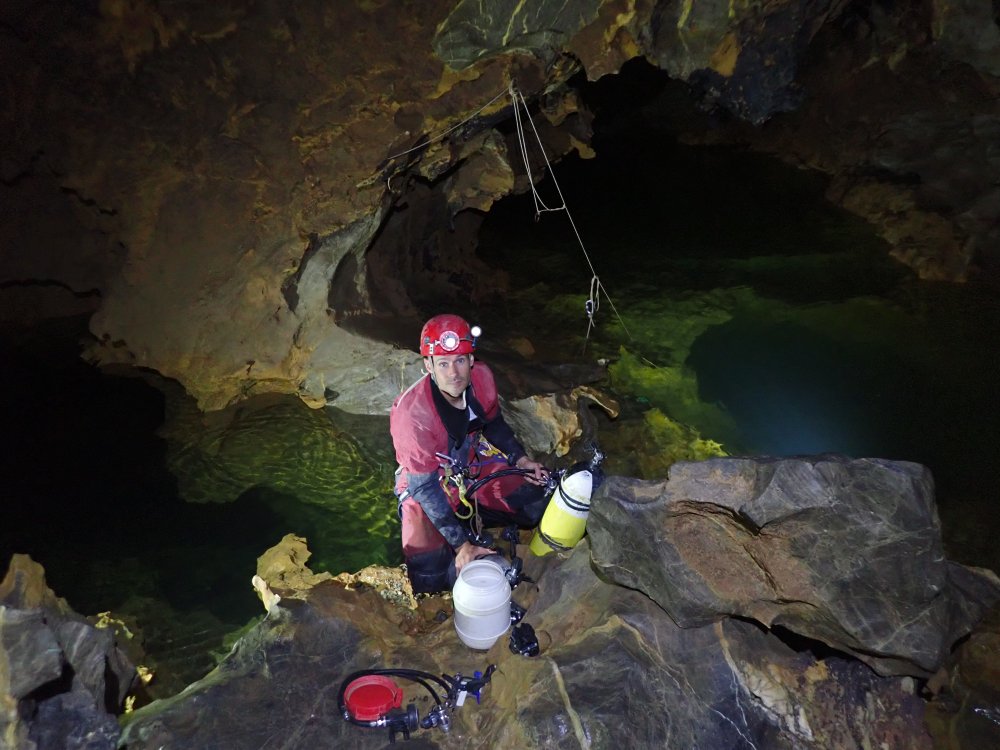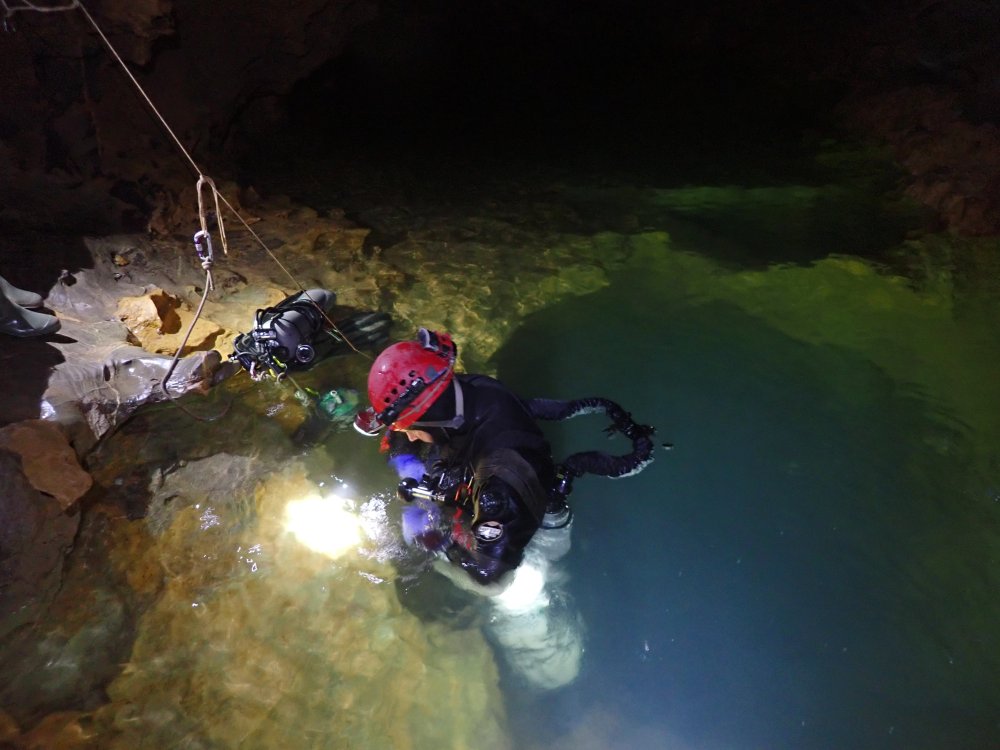 Finally I can't really talk about the 2022 Tresviso trip without mentioning the other main objective of the expedition, to rig and dive Sara. This time it was going to be Rob Middleton getting in the water rather than me.
There was a fantastic effort by a very good team of cavers to get Sara rigged. It's a 650m deep cave with a big and (very very loose) pitch series at the start which then gives way to plenty of fairly physical caving (especially when moving heavy diving equipment). The cave was successfully rigged (completely re-bolted), dived, and de-rigged in less than two weeks. There were lots of long (12hr+ trips) to make it all happen and Rob certainly put a lot of effort into the project.
Unfortunately the sump was a horrid mud filled mess and prospects of huge finds on the far side are limited I'd judge by the way the sump backs up.
Rob wrote up this report
"Viz was quickly lost in the sump pool, having begun at only 1m and then quickly down to zero. Investigations at the far well of the pool found a low silty arch which was initially entered for around 10m on the left-hand side.
Convinced expedition diving should be better than this RM returned to the pool and conducted a tactile search of the rest of the wall eventually finding a slight larger continuation. RM entered this feet first digging with his fins to make it passable. RM placed a silt screw at 10m and then at 17m dopped weight and more weight at 25m all in zero vis. At this point an elbow was let and the diver managed to enter a small, submerged chamber and then turned to face forwards.
Vague glimpses of node(?) walls were made before again zero vis resumed and at 34m from base the diver required more zero vis digging to proceed. At this point the diver decided it was all getting a bit silly and made for the exit, removing all line enroute. Exit was not without difficulties with line traps(?) making the diver somewhat concerned on several occasions.
In total the diver lasted 22 minutes reaching a depth (at some point) of -22m"
I only made one trip into Sara myself, and that was to arrive at the sump pool just after Rob had finished diving so that I could help take some kit out. Here is a photo just before the 14hr trip to the bottom.