Some ten years ago three old cavers were coming out of Shatter when one said that he could hear water running. Being mostly unreliable in this respect the other two cavers said " pah , you be hearing things ". Well with ear close to the floor there was indeed the noise of running water. That was about a metre from the entrance pipe so made a quick and easy dig. A descent of some 25 metres lead to an active streamway choked on the downstream end. This was indeed the last significant find in Shatter Cave. Being rather old then (and virtually senile now) the passage was called Viagara Rift. Apart fom a bolt fitted and a bit of walling done nothing else ever happened. No survey, no photos and no water tracing. The entrance was covered over with a big metal sheet.
Yesterday one of the original discoverers decided to pay a long overdue visit. Supported by younger assistants. The bottom sump was regained and a short video made. Some photos were taken. The stream was flowing strongly with signs of back up. The boulders were horrible and the 20m ladder was a fair way off the bottom parts of which looked a bit awkward. Its probable that this is the Withybrook stream heard down the rift at the end of Helectite Rift. It might flow onward via Conning Tower Cave, Ducks Pot and Hilliers Cave to emerge at St Dunstans Well. So still open for stream testing.
The Old Guys.
Peter Glanvill, Pete Rose and Nick Chipchase.
The " new " team.
Mike Wise leading. Brian Johnson support and a practically senile Nick Chipchase with the camera.
Possibly a minor collector's piece and even more probably best avoided.
Video link.
https://flic.kr/p/2onYNUJ
Mike Wise bravely leads.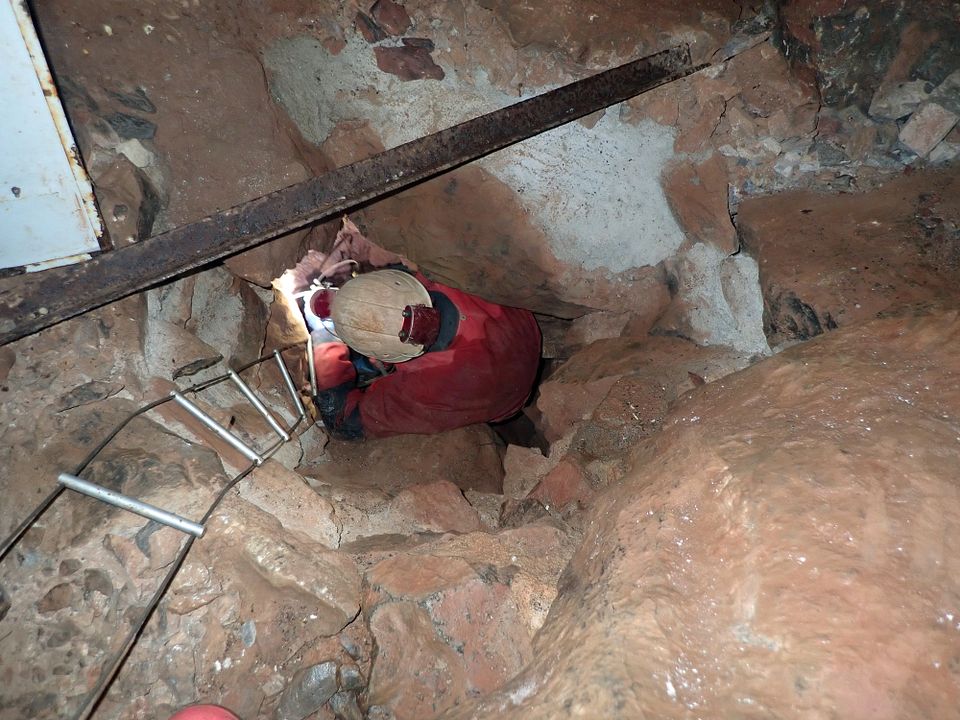 Brian Johnson supporting.
The awkward bit below the ladder.
Mike Wise at the sump.