Cwmorthin slate mine was active between 1810 -1970... (if you're interested in the history go visit its Wikipedia page or
http://www.cwmorthin.org/
.) The mine is now used for recreational purposes and is owned by Go Below Underground Adventures Ltd, who are kind enough to offer free access to cavers/underground explorers who don't need a guide - see cwmothin.org for access information (FYI it's a really fun trip if you haven't been - like Crossor but more of a labyrinth).
Having caved regularly for 8 years I assumed I'd be fine just going down the mine with my SRT kit, 50m of rope and a Petzl tandem. Now it turns out that the existing survey is very hard to understand if you don't know the layout of the mine already. It's quite long and many of the areas shown on the mine have now collapsed, when you're in the mine it's often difficult to tell which level you're on just by looking at the survey. So it's hard to make the most out of a day in the mine without a leader who already knows the way to the most interesting bits.
This is the survey I initially used...
Being 7 months past the funding deadline for my PhD, I should have been pulling together my Thesis and brushing up for my Viva. However, with big deadlines come's a lot of procrastination and I found myself taking on this resurvey project instead.
My original intention was to resurvey the mine in a conventional way, but I quickly discovered there's no way I'd have the patience for that. In addition, the mine is full of iron/iron oxide + old metal mining equipment so the equipment gets thrown off anyway, therefore I decided it'd be easier to just sketch over the original survey, removing inaccessible areas, highlighting the accessible levels and key features.
The aim wasn't to create an accurate survey but to create a functional tool that could be used to navigate their way through the mine, imagine a theme park map but for an underground mine. Unfortunately, it wasn't possible to do this just by editing the existing survey. The mine has changed quite a lot since the original plans were drawn up and in order to complete the project, I needed to really wrap my head around the current layout of the mine.
I could have made notes on a paper copy of the survey but as the mine is mostly walking and traversing I brought my Samsung Galaxy Tablet down instead. This made it a bit easier as I could pinch and zoom to take more detailed notes of different sections and I could also easily rub out mistakes and change the colour of my pen.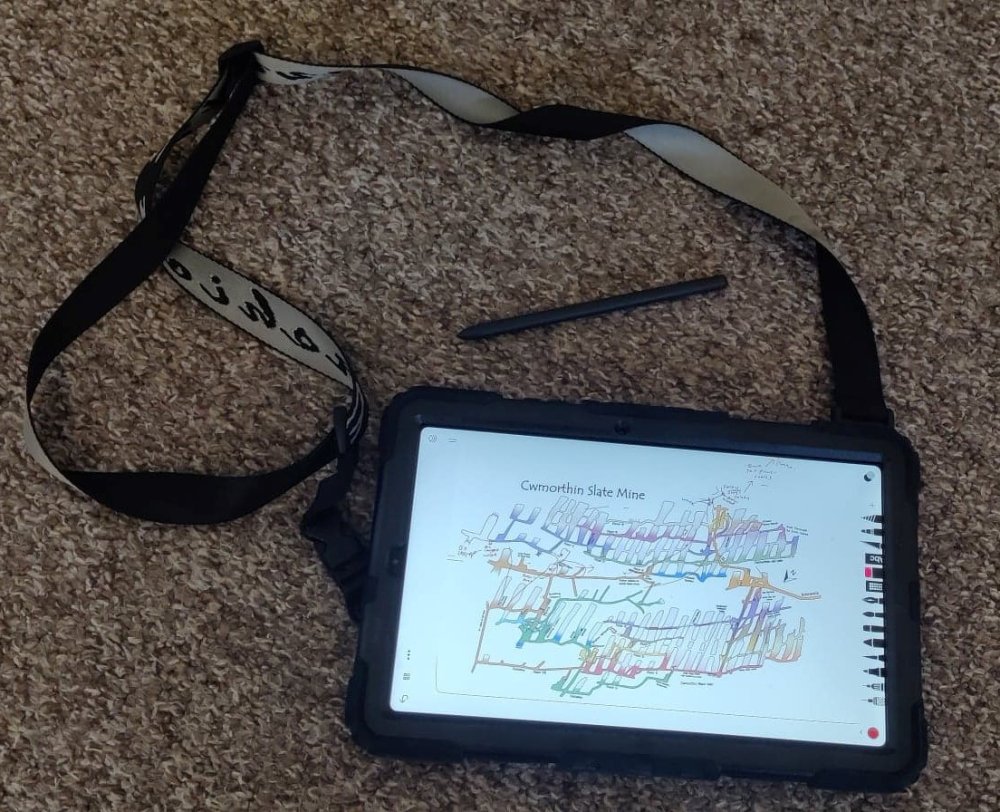 In total, I went down Cwmorthin about 5-6 times over about 10 weeks - the GoBelow staff/Bangor caving club were helpful in explaining how bits of the mine connected together. Each time I would take notes on the survey, and then draw it up more neatly in an open-source vector drawing software called InkScape (
https://inkscape.org/
). Iteratively improving the survey until I had something I was happy with.
I've posted the finished product below, the chambers in each of the three mine veins are mostly connected but the floor is either flat or at a steep 40-50° angle. To indicate where you can/can't walk I've either made the colours dark (flat walkable ground) or lighter (very steep/inaccessible). The colours also help to let you know what level you're on, I've had to recycle colours a bit but you get the idea. The ziplines, traverses and abseils are marked clearly with blue/red lines. Note the traverses/zip-lines are in-situ but the abseils aren't, I'd recommend bringing a 50m rope. I've also included some landmarks you can't miss when you're down there e.g. the steam compressors.
I'll probably make a few more posts in the coming weeks but it's currently good enough to use for Nav.
I've posted the Inkscape file on my GitHub page:
https://github.com/blhall195/Cwmorthin
if anyone wants to make any edits themselves.
Feel free to share this with anyone planning a trip down Cwmorthin
Last edited: