Descent issue 292 has a publication date of 3 June and should be with subscribers soon.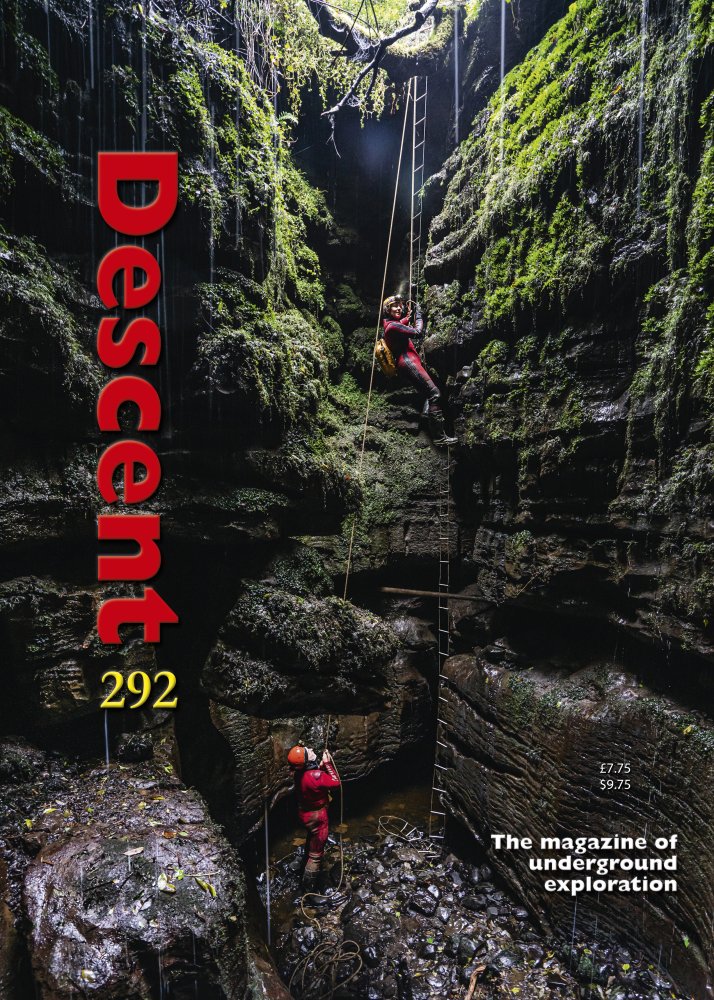 Cover photo:
Fisherstreet Pot, Doolin River Cave.
Photo:
Martyn Farr
The cover photo is taken from Martyn's new book,
Hidden Realms
, which is reviewed in this issue.
There's a great mixture of articles in issue 292: exotic expeditions, sporting trips, UK discoveries, photography, cinematography and more.
A Return to the Deepest Cave in Thailand
Andy Goddard, Martin Ellis, Paul Dummer and Mike Thomas tell us about a major recent expedition to Thailand.
Into the Mulespinner
Teams Average and Awesome have been rewarded for their digging in Bagshawe Cavern, as Dave Cowley reports.
The Making of A Crack in the Mountain
A new film, for cinema release, that portrays caving in a positive light? Alastair Evans tells us how this came about.
Northern Explorers Meet Again
Four years after the first forum, Frank Pearson reports on the return of this day of inspiring talks.
Great Sporting Trips of the World: the Cueto-Coventosa Through Trip
Chris Scaife gives an account of one of northern Spain's classic sporting challenges.
Photographing Ingleborough Cave
Harry Long has been visiting Ingleborough Cave since 1960, and now shares some of his best photos from in and beyond the showcave.
Troglomonks in the Sky
Pete Ryder tells us about an underground abbey in the French region of Provence.
A Journey to the Roots of Nagaland
An international expedition to a mountainous region of India is described by Thomas Arbenz.
A Tale of Three Pots
The Black Sheep Diggers have been active in Nidderdale for years, and here Chris Fox reports on recent developments.
SpeleoFotoContest Winners
We present the winning photos in each category from this year's SpeleoFotoContest.
Back cover:
Jess Burkey in the Lower Bung Streamway, Peak Cavern.
Photo: Mark Burkey