The anchors at Garlands Pot in Giants Hole received an informal inspection this week whilst I was there for a couple of hours running a BCA Vertical Leader training course. Two separate issues were noted and details are given below. This also prompted a proposal for other improvements to the anchors of this pitch. Changes to anchor layouts in such established areas are rare, so we wanted to be open about what we plan on doing here.
Issue 1
(red arrow)
The right hand anchor for the 'usual' Y hang at shoulder height is a DMM which was installed in 2002. The resin has shrunk and the anchor has some slight rotational movement and has therefore been flagged for replacement asap. The hope is to install a new BP anchor higher than the original to raise the Y hang a little. Use of the roof anchor above the ledge still provides the highest Y hang rigging, but most cavers seem to rig to the pair of lower bolts, so if we can improve the height of the hang here we will.
Issue 2
(green arrow)
The anchor at this location is a PECO anchor. These were the initial replacements for the DMM variant when they ceased to be produced. For various historical reasons the use of the PECO was abandoned by BCA and it was thought that any that were installed had been removed already. This anchor has had many years of use without any issues, but now it has been identified as one of the batches that were recalled, we will remove it and replace it with a BP anchor when we deal with issue 1.
Proposal 1
(yellow arrow)
Far out from the Y hang is another DMM resin anchor. This is for rigging a Y hang way out from the ledge to give a drier hang in times of increased water flow. The problem is that to safely access or use this resin anchor, an old 8mm Spit has to be used. This Spit (the yellow anchor in the diagram) is rusty and probably doesn't even take a hanger plate any more. To allow safe use of the far DMM anchor, it is proposed to remove or replace the Spit with a new BP resin anchor. Cavers would then have the option of rigging a Y hang further out if necessary, or to avoid other rigging already in place on this busy pitch.
Proposal 2
Below the Spit and far right DMM anchor, roughly 1/3rd of the way down the wall, is another historic Spit. This was in place for a deviation (or maybe a rebelay?). The state of the Spit and attached hanger plate has deteriorated due to the constant moisture, and we intend to remove this. A caver has placed an alternative deviation anchor, consisting of a concrete screw on a hanger plate, near to the Spit in recent years. Although this screw looks in good condition, it is not an anchor that will remain safe for the long term and will also be removed. DCA could place another BP anchor in this area to act as a deviation if there is the desire to have one here. We are open to hearing caver's opinions on whether this would be desirable, or if by completing proposal 1, we eliminate the need for a deviation anchor at all.
Cavers should note that anchor replacement work will be taking place in the area over the coming couple of weeks. I'll post here when we pick an exact day. You'll still be able to rig Garlands during the work, but may have to make use of different anchors to normal while we are there.
Pete Knight, DCA Projects and Equipment Officer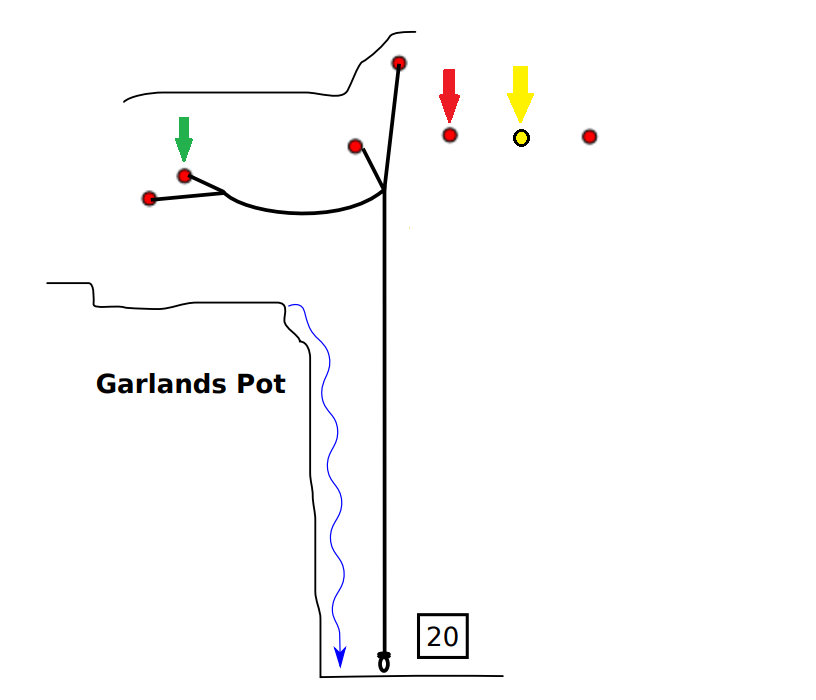 DCA does not undertake a program of regular anchor inspections, but we do generally keep an eye on heavily trafficked sites and of course will respond to direct requests for anchors to be checked if cavers notice any issues. Cavers should check any anchor they intend to use and details of how to do that for BCA resin anchors, and how to report defects, can be seen on the DCA website here:
https://thedca.org.uk/equipment/anchors/
.