DCA volunteers were out last week in the Hope Valley working on 2 unloved mine shafts. The Pindale End mine workings have never really been on the radar of the general caving community, but they have been there and open since at least when the last caps were done during the 1990s. The 2 shafts are less than 100m away from each other. One is just uphill from the tight bend in the Pindale road where the track up to Pindale quarry goes off. This is 'Upper Shaft'. The other shaft is downhill along a rough track parallel to the road and near a telegraph pole, and is referred to as 'Lower Shaft'.
Both shaft tops had seen better days, with their original steel lids heavily corroded and with no security. The shafts were extremely close to the public and in their current state, presented a very real risk for anyone venturing a few feet from the road. DCA consulted with the landowner and gained permission for the works, which are now complete.
Hard labour & good company was provided by Phil Wolstenholme, Pete Knight, Roy Rogers, Gordon Fiander and Tim Webber.
DCA wish to make a special mention of Alan Medhurst at Pindale Farm campsite. He gave us a cement mixer, wheelbarrow, a chunk of space in his drive and plenty of interesting info about the mines around his property. Thank you very much Alan.
Details of the shafts can be found on the DCA Registry here:
Upper Shaft
https://peakdistrictcaving.info/home/the-caves/castleton/pindale-end-mine-upper-shaft
Lower Shaft
https://peakdistrictcaving.info/home/the-caves/castleton/pindale-end-mine
Some points to note if you plan a trip here (do also read the Registry page!):
Both mines do contain some loose ground and false floors. The workings off the Lower Shaft is particularly loose and great care needs to be taken.
Both shafts are secured shut with two 24mm nuts. You will need a Derbyshire Key to get in. Please report missing nuts.
Both shafts have a scaffold tube belay set into the lid (inspect before use). You should use a tree to back the bar up as it is free floating in its socket.
Both shafts are extremely close to the public rights of way and must be kept shut at all times when cavers are not getting in or out of the shaft.
The lids can be closed whilst a rope is rigged to the scaff tube and a backup tree.
The sites contain a mixture of old 8mm Spits and 10mm stainless steel expansion anchors installed in 2021. No BP resin anchors are present at this time, hence there is no DCA rigging guide (they only cover our bolts but I'm sure CPCC will be on it soon!).
The Lower Shaft might just be the finest example of a climbing shaft we know about. It's worth seeing for yourself!
From this...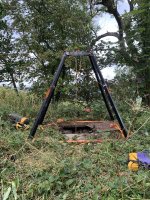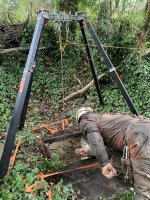 To this...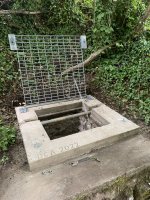 Thanks as ever to the volunteers. This work was entirely funded by DCA, which is supported by your membership fees. If you're not a DCA member, consider joining us.
www.thedca.org.uk