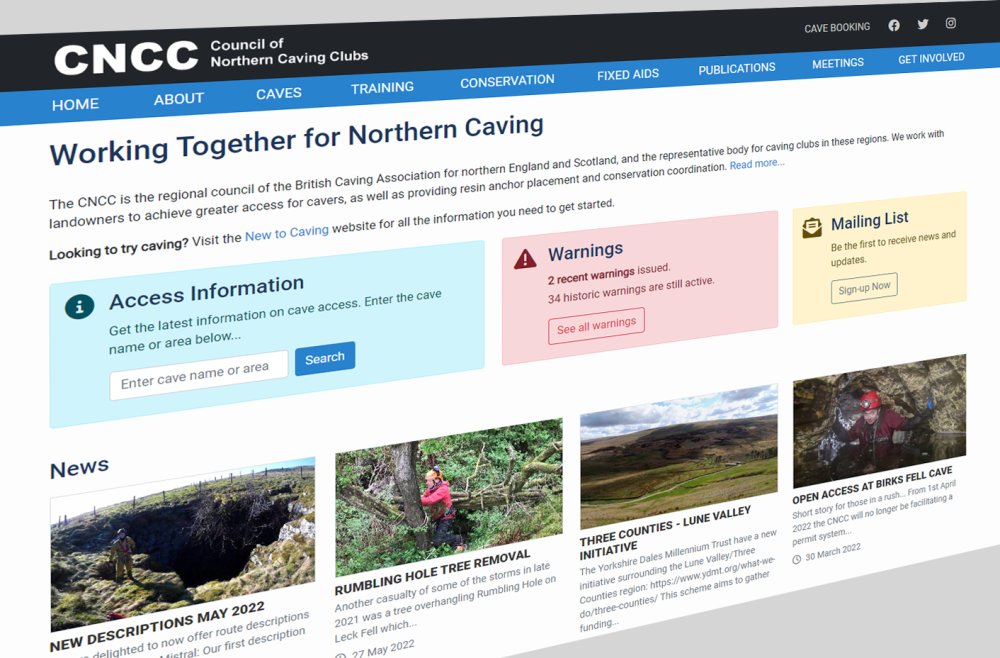 Over the last several months our Web Officer, Gary Douthwaite, has been working hard to give the CNCC's website a facelift.
The updated site has been launched this week, at the same address as usual:
www.cncc.org.uk
Regular users of the website will notice only cosmetic changes. All the usual information is just as accessible as before. However, behind the scenes, the website has been redeveloped to enable simpler content management and implement security updates.
Importantly, the entire site is now fully mobile phone friendly, whereas previously some parts did not work as they should. Our stats show that 57% of all access to our website is from a mobile, so ensuring mobile-device optimisation is essential.
For anyone not yet familiar with our website, you can:
Download rigging topos and cave descriptions
Check access and location details for northern caves
Check out our latest news stories
Sign up to our mailing list to receive regular northern caving updates
View and sign up to upcoming training workshops
Learn about resin bonded anchors
See information and documents for our meetings
Report any safety or conservation issues or description/topo errors
View conservation resources, recent projects or sign up as a volunteer
Access useful resources on caving safety
Plus lots more
If you spot any errors, or anything not working, please post here and we can get it sorted
Some interesting statistics (based on Google Analytics):
In July 2022 alone, the CNCC website received 10700 page views with 2866 different users (63% of who were in the UK).
Over the last 12 months, 33.5% of website users have been female (31.3% in previous 12 months) and 66.5% have been male.
Over the last 12 months, 38% of website users have been 34 or under, 38% have been 35-54 and 24% have been 55+.
On average 2500 topos and 2100 descriptions are downloaded per month: That's about 150 downloads each day.
We have 384 individual people signed up to our mailing list to receive news updates.