At the time of writing, I am sat in the Tatty Hut at Base Camp in Bad Aussee. It is day five of expo and a lot has happened.
We discovered on Sunday (day one - 07/07/2019) that our Top Camp, Steinbrueken, was full of snow:
Philip Sargent standing in snow-filled Steinbrueken
Meanwhile, Base Camp preparations were well underway: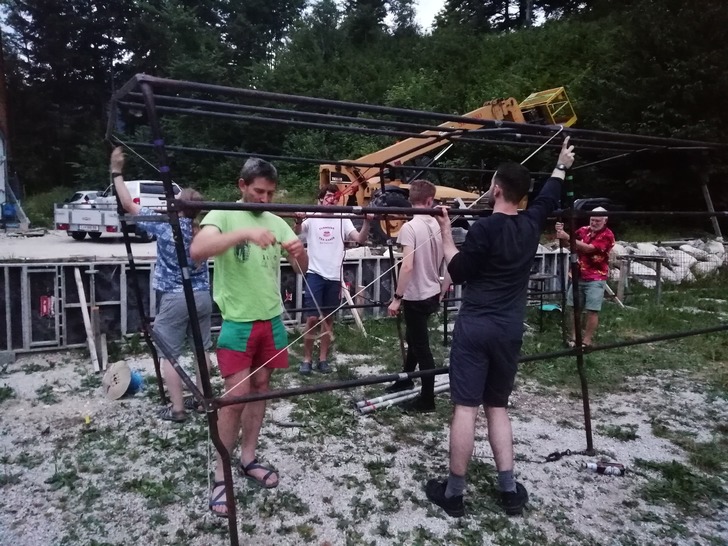 The Beer Tent being assembled at Base Camp
The beer tent was being hoisted (above) and the new rope (thanks to UK Caving and Spanset for the sponsorship!) was being soaked, coiled, and cut into usable lengths ready for caving.
The next few days consisted of Expo members undertaking multitudes of carrying trips up to top camp, and a few hardy folk doing their best to fettle the bivvy for habitability. Tuesday (09/07/2019) night saw the first people sleeping in Steinbrueken. Mostly, they described the experience as "chilly" but one person went as far as to claim he had been warmer there than at Base Camp.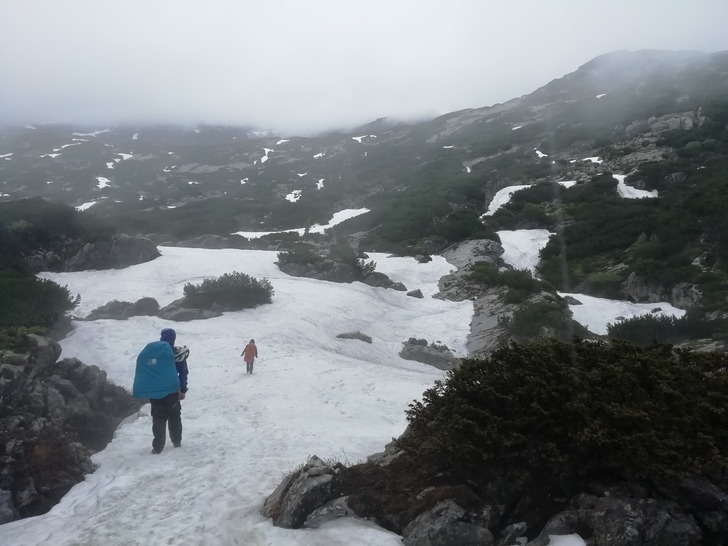 People carrying equipment to Top Camp
Also on Tuesday (09/07/2019), a new route was devised and cairned directly from Heimkommen Hoehle to the tourist path on the coll. The idea being that Homecoming could be close enough to push from Base Camp rather than Steinbrueken. This came with the discovery that Fischgesicht Hoehle's entrance was under two to three metres of snow:
Michael Holliday and a broken shovel standing on top of the snow that covers the entrance to Fischgesicht Hoehle
On Wednesday (10/07/2019), Expo split into three groups. The majority went to Steinbrueken to commence the final push towards habitability while some went to investigate Balkonhoehle. Three of us (Dickon Morris, Daniel Heins, and myself) went to Heimkommen to rig to the pushing front (the decision to concentrate on Heimkommen and Balkon having been made for us by the plateau).
Daniel Heins and Dickon Morris on the rigging trip to Heimkommen
That's all for now,
Tom Crossley (11/07/2019)