POZO AZUL, Covanera, Burgos, Spain.

August to September 2023
Not since 2017 had anyone been able to return and explore the further reaches of this long resurgence system. This mainly being because it requires specialist cave diving equipment and experience, and it being more than 9 km of diving (over 6 sumps) just to reach the furthest point at some 11 km + from the single entrance/resurgence. The most technically challenging are Sump 2 (5160m @ -70m) which is the longest sump ever to be passed to airspace, and Sump 3 (3275m @ -40m). Considering the remoteness and distance of the furthest reaches of the cave, this years expedition had two main objectives; firstly to radio locate high level passages above Tipperary so that searches (for alternative entrances or digs) on the surface (only 30 m above) could have some direction. Alongside this, to achieve stable and continuous cave communication with Cave Link from the same location and from Camp Tipperary some 60m deeper. The second objective was a sustained exploration over several days in and around Sump 6 (the limit of which since 2017 was 200m @ -40 m). The initial plan was for 3 persons to dive beyond Sump 3 and push Sump 6 (potentially with a scooter/DPV). But in the end only 2 divers were able to make the trip, thus increasing the workload, requiring a change of plans, and a consequence of this was a limited but sustained exploration of Sump 6. This sump was extended by 440 m, much of it at -35m ( to 660 m @ -12 m), with the sump continuing beyond. (If we had had the 3rd person and the scooter, its likely that we would have doubled this distance and more). The radio location above Tipperary using a 'Pinger' was extremely successful, with 3 locations 'nulled', showing the the original experimental sump 2 surveying (ref. John Volanthen - Lazy Boy Mapper) was fairly accurate. Cave Link communication was also successful with continuous communication both in the high level passages, and back down at Camp Tipperary. This first objective was carried out over a 2 night camp beyond Sump 2 in Tipperary. The exploration of the far reaches of the cave including Sump 6, were carried out over a separate 7 day camp in Razor passage beyond Sump 3. Several hundred metres of dry side passages after Sump 4, were explored and mapped, showing significant and interesting development. Attempts at Cave Link communication from Razor Passage were unsuccessful, despite several days searching on the surface by the support team. Thus the exploration team were out of contact for 4-5 days of the 7 day camp.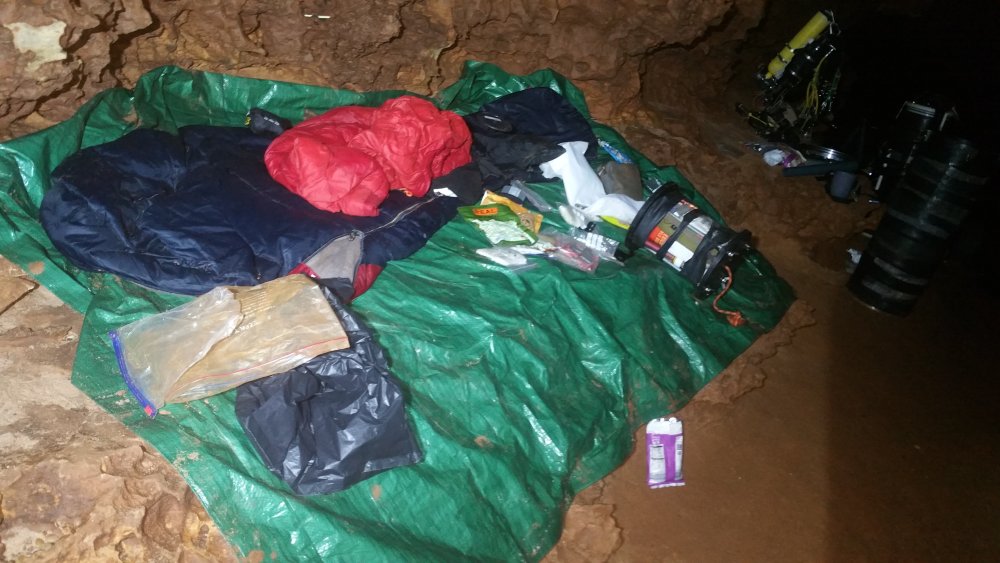 Typical Sleeping arrangement - Tipperary
Whilst only 2 divers (Jason Mallinson and Craig Challen) were able to make the journey to the end, a massive support team (Spanish, British, Australian and Andorran) made this possible with their indefatigable and unselfish support, without which nothing would have been possible. Many set up dives were required to transport the necessary equipment to Sump 2 dive base, including long range scooters/DPV's weighing in at 80 kg each. The team being familiar with this section of the cave following many preceeding years of exploration, made these tasks much easier.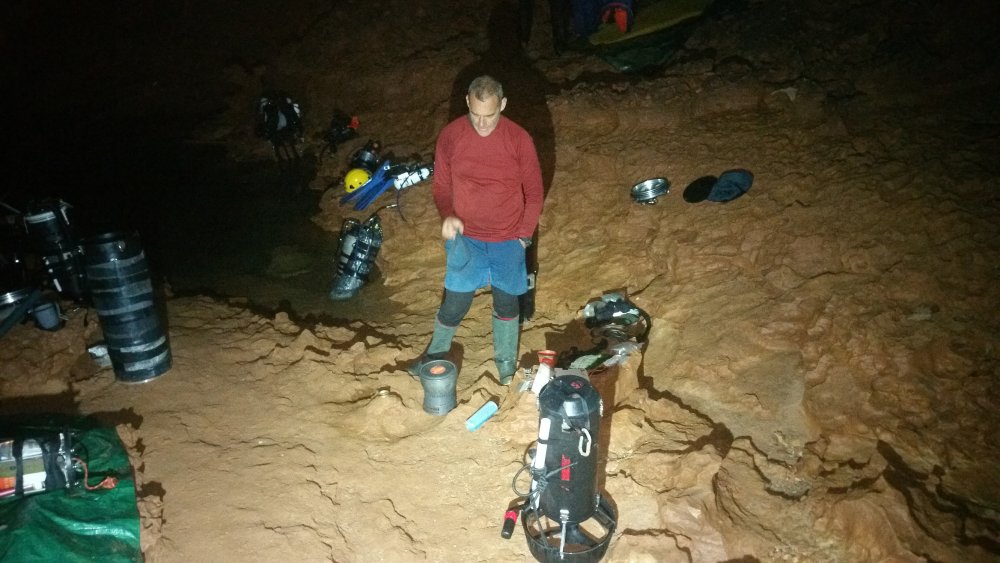 Camp Tipperary
Several interesting differences to this years expedition compared with previous years were; the use of wet gloves (rather than dry gloves) for all the exploration dives (11 deg.water) including traversing Sump 2 (5 hours) and Sump 3 (2.5 hours). Also the minimal use of the habitats, apart from day of return from 7 day exploration, when one of the divers was extremely wet inside drysuit. The in-water decompression (often 3 hours) was made more comfortable at these times (when not using the habitat) by utilising heated under-jackets within the drysuits. The visibility in the the sumps was not as good as in previous years, and route finding (following thin, discoloured 15+ year old exploration line)in the often hazy water, at times led to the divers mistakenly heading in the wrong direction. Advantage by divers with previous knowledge of the sumps was apparent in these cases, (although not always !!)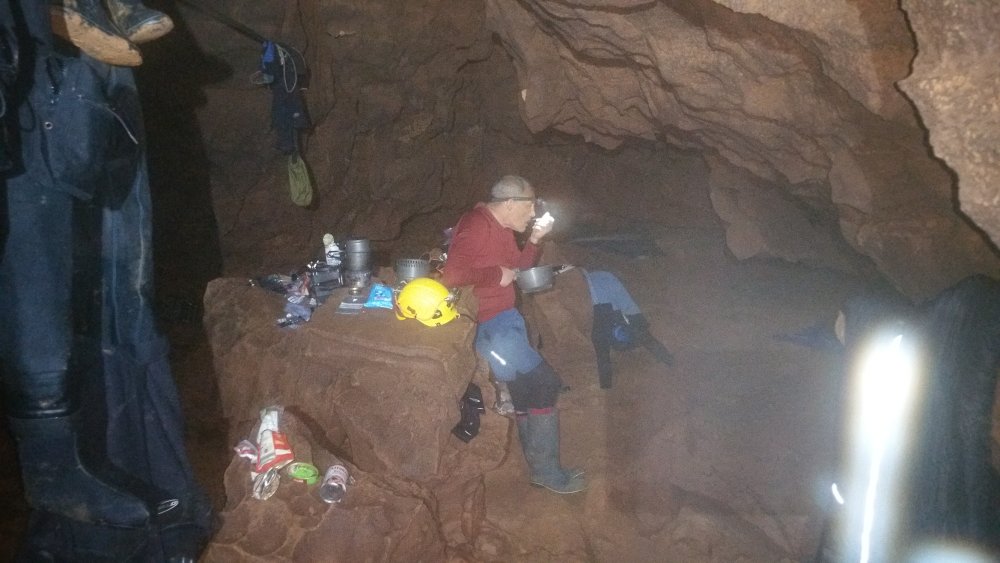 Razor Camp
This modern series of exploration expeditions to Pozo Azul began in 2001, when the system was just 1780m long, (credit due to Rupert Skorupka here for the tip) and has fielded an expedition more than 15 times over that period, up to 2023. As always we continue and benefit from preceding explorations and teams.
In summary the following results were attained ;
Radio Location above Tipperary - 3 locations 'nulled' giving a minimum depth of circa. 30m.
Cave Communication above Tipperary - 3 locations achieved using Cave Link , including Camp Tipperary
Sump 6 - successfully extended by 440 m, making the furthest point now 10095m of diving from the nearest entrance.
Sump 4 to Sump 5 - Centreline survey (DistoX) successfully attained (513m)
Sump 4 - underwater survey attained to compare with previous versions (150m)
Dry side passages between Sump 4 & Sump5 - surveyed and new passages found, continue with multiple leads. (723m)
As far as we are aware this total dive distance of 10095m to reach the furthest point in Sump 6 is the furthest anyone has ever dived from the nearest cave entrance.
Some thanks are due to persons who assisted us with equipment:-
Fred Rattray - Radio Location devices ' Freders' (used between S1 and S2)
Ken Smith - Radio Location devices 'Pingers (used above Tipperary)
Graham Naylor - Nicola Radios (used between S1 and S2)
Pete Allwright - Nicola Radios (used between S1 and S2)
Ghar Parau Foundation