It's about time I started a new thread about our latest dig - Sharbutt's 2 Rift.
Fairly predictably, Sharbutt's 2 is the second cave in Sharbutt's quarry. Sharbutt's Rift being the other and the 'top' entrance to Sandy Hole (must get round to updating that thread as well as some point). A bit of research suggests Sharbutt's 2 Rift might have historically been call 'Top Hole', first reported in the 1960's by Leicester University. No doubt other's may disagree on this as the historical info relating to Portland's caves is a bit open to interpretation. The name 'Top Hole' predates the discovery of Sandy Hole and so is not descriptive of a top entrance to Sandy (i.e. Sharbutt's Rift).
Whatever the name, the cave is a short but wide rift, high up in the limestone series approx. 10 m long and ending at a flowstone choke. Oh and full of Pigeons and their shit heap they've been creating for the last 50 years! Despite the slight whiff, it's been on our to do list for a few years but as is always the case, too many places to look at and too little time.
I need to start this story by rolling back approx. 18 months and beginning in Sharbutt's Rift, rather than Sharbutt's 2. I'd recently made a few modification to the Sharbutt's - Sandy connection to allow normal sized people through. Having never passed due to being fairly certain he'd not fit, I convinced Richard it was now probably big enough for him. We took some tools & drill just in case but quickly completed the through trip and out of Sandy. Now at a loose end for a couple of hours I convinced Richard to spend the rest of the day in Sharbutt's 2. We drilled through the flowstone blockage to find exactly what we expected - a wall of mud / rock infill. A couple of hours later we'd probably made about half a metre progress into this however in doing so we'd seriously pissed off some Pigeons which were less than impressed by our presence. We decided this should be a winter (rather than nesting season) dig and vowed to return in the Autumn.
November / December 2022 - myself and Richard had a couple more sessions digging out mud and rock but other than pushing the dig face back a couple of metres everything still looked the same. Unfortunately following that second trip Richard knackered his shoulder and has been unable to cave since (though I have heard in the last couple of weeks, it's better enough to get back underground again). So last winter passed with no further progress, the pigeons moved in for their annual pigeon nooky and that brings us to Autumn 2023.
20th Oct 2023 - Tom & I were at a loose end of a Friday evening and after something close to the car due to time being a bit tight to get to the chippy before it shuts so decided upon restarting the dig in Sharbutt's 2. Approx. 3 hours of muck removal yielded another metre forward. A week or so later Mike K and I spend an entire day in there ending with a hole opening giving a view of a few metres along the right hand wall. Not big enough to fit in, but at least something different to a wall of mud. The most significant bit was that a decent draft emanated from the hole and more so, it sounded like there was a much bigger draft somewhere ahead blowing through a gap. The downside of digging with Mike K is that everything quickly ends up 'Mike K sized'. On 11th November Mike R and I spent the day pushing ahead a little, but predominately increasing the diameter of the dig. Finally, last Friday, Tom and I had another session of digging both up and to the left at the end and also following the void found previously. I've a gut feeling which I can't really explain that up and to the left is better than following the void. I guess only time will tell. Currently we're around 5 to 6 metres from the starting point and things are looking reasonably promising. Plenty of potential with this one including good possibilities of a sensible pitch in the 10 to 15 m range and maybe even a connection into the rifts at the Northern end of Sandy. Hopefully we'll get a few more sessions into this over the coming weeks before Percy Pigeon and his bit of stuff returns to lay eggs and shit all over the place again.
Some photo's:
The entrance amongst blocks.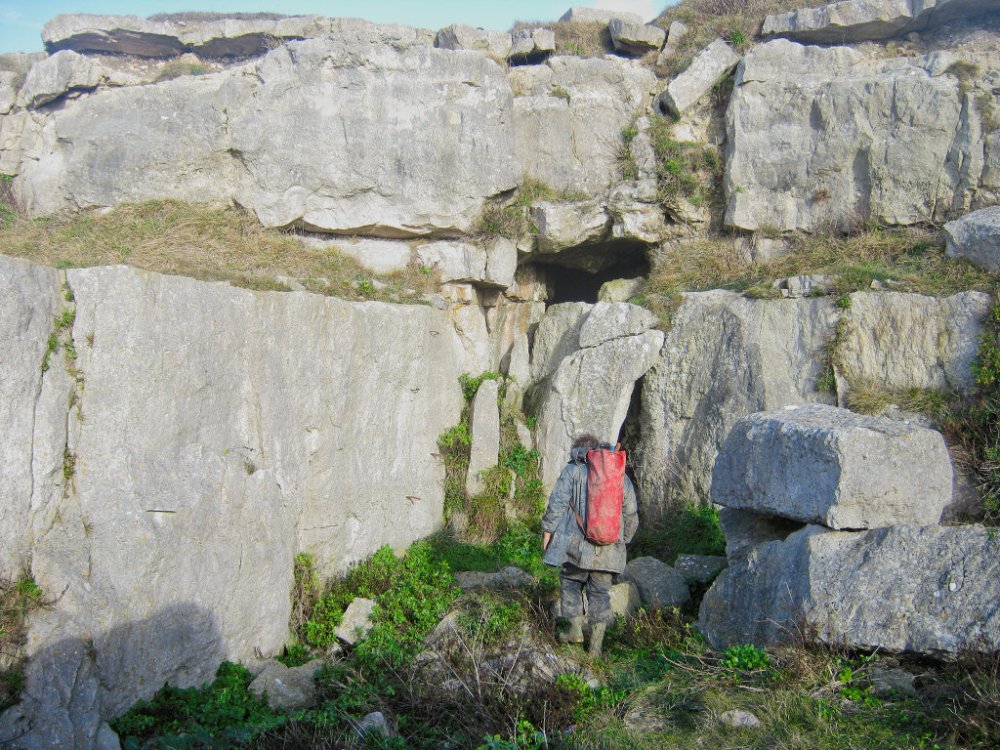 Me in the dig (Tom's photo).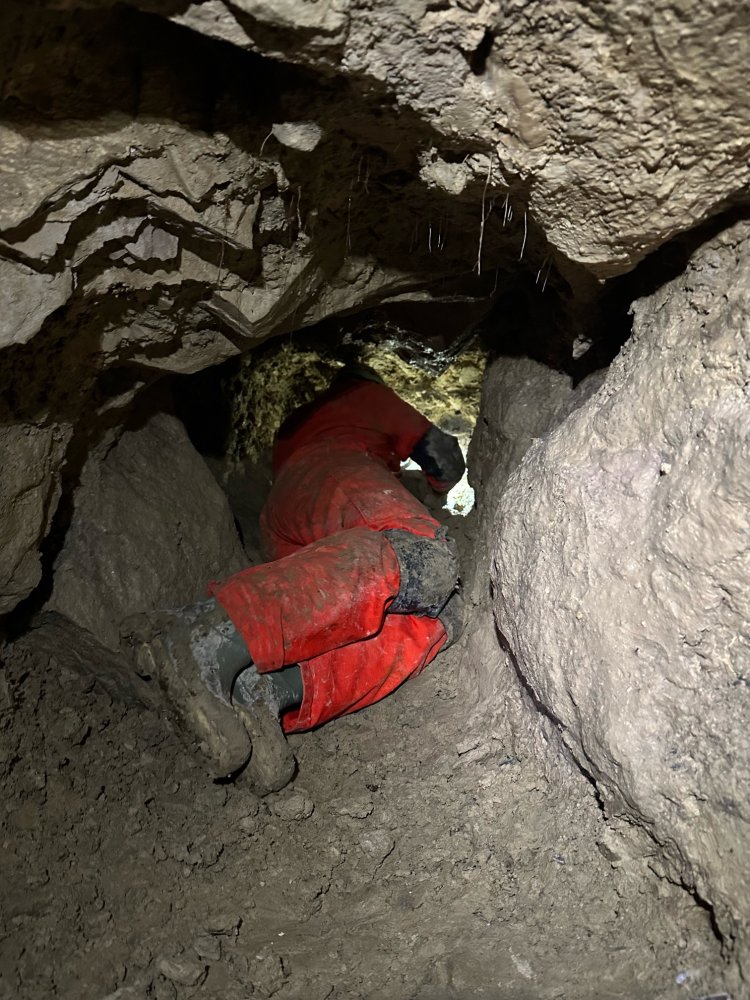 Hmmm, not so clean (Mike's photo). This has since been enlarged!