The story of our latest breakthrough...
For those unfamiliar with the wonderful caves on Portland I should first explain a little about Sandy Hole. Put simply it is a most hateful place. Despite being the longest cave on Portland and hosting the longest trip (approx. 7 hours for a there and back trip to the end of Ammonite Passage, so rumour has it), it is simply awful even for the most sadistic caver. The cave consist almost entire of phreatic tunnels 18 to 36 inches high littered with a chert, rock and sticky mud floor with pretty much zero in the way of formations. Connoisseurs of sore knees, bruises and awkward crawling who are not insane enough to head down Ammonite Passage can complete a short round trip which would take most about 90 mins to complete and features one of the few places in the cave it's possible to stand up (Worlds End Chamber). The only redeeming feature of the cave is that it forms the Southern part of the Blacknor through trip which visits a short but palatable section (Prize Day Passage & Gold and Silver Passage). This can be improved further by using the Sharbutt's rift entrance to cut off Prize Day Passage (the entrance tunnel).
I think this photo from several years ago sums up the cave quite nicely...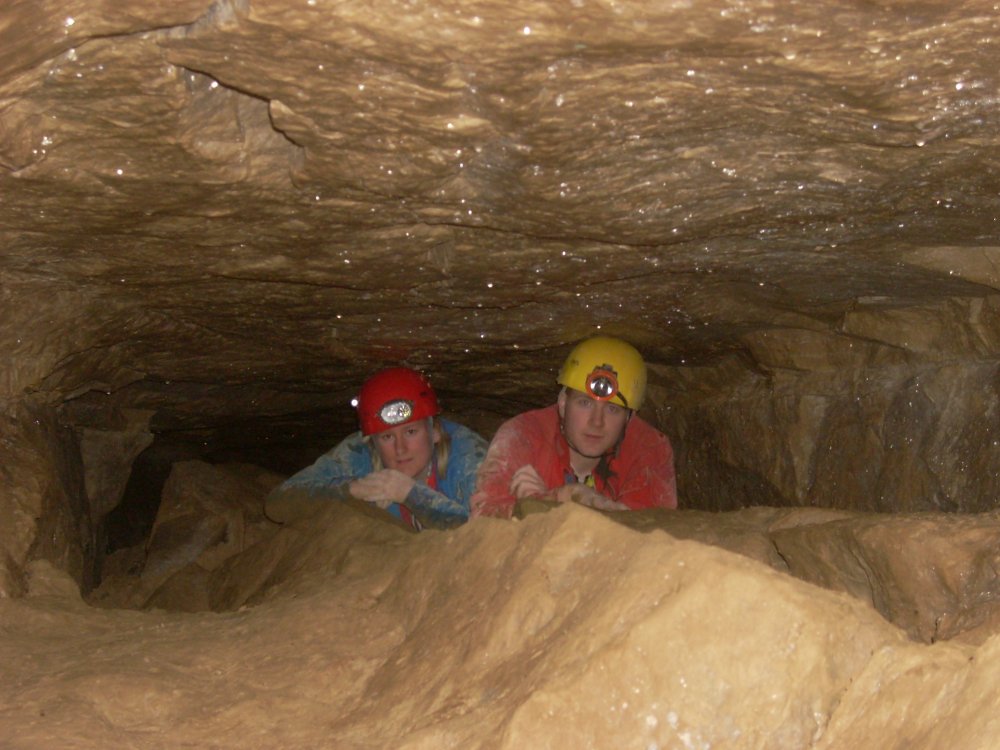 Despite it's minor drawbacks Sandy Hole has almost certainly attracted more attention from diggers than any other cave on Portland. So like many before me I eyed up a spot within the cave to find caverns measureless to man.
Roll back a couple of months, on a day when Mike, Gaynam and I met of Portland. I'd already announced there was a site in Sandy I wanted to look at, Gaynam stated he'd never been down Sharbutts and uttered the words "I'm sure Sandy can't be as bad as I remember" (insert loud witches cackle). Where I took the two was the Northern most point in Sandy at the far end of the rift which forms the connection to Vortex Passage in Ariel Cave. The (as far as I'm aware) unnamed rift is of good size and ended at a flowstone constriction with a view of a couple of metres beyond, being not to dissimilar to the end of Persil before we attacked that back in 2020. It took a couple of hours but enough was eventually removed on that occasion to let Mike pass. Unfortunately the continuing rift was barely 'Mike sized' immediately got a tad smaller and progress impossible. We looked at a potential up and over but decided to leave that for another day.
The 'another day' was 22nd July. Mike and I set off down Sharbutts with 2 drills, 8 batteries and an assortment of bashing tools. First job was to make the gap through the flowstone a bit bigger and secondly remove a couple of stal'd in blocks above head height beyond which it appeared a little wider. It turned out it was a little wider but only for a couple of metres. As with the lower option it quickly became too tight. Despite not finding any significant passage we did find some pretties above our heads including a few translucent straws which I've never seen on Portland before. Straws are typically orange or yellow: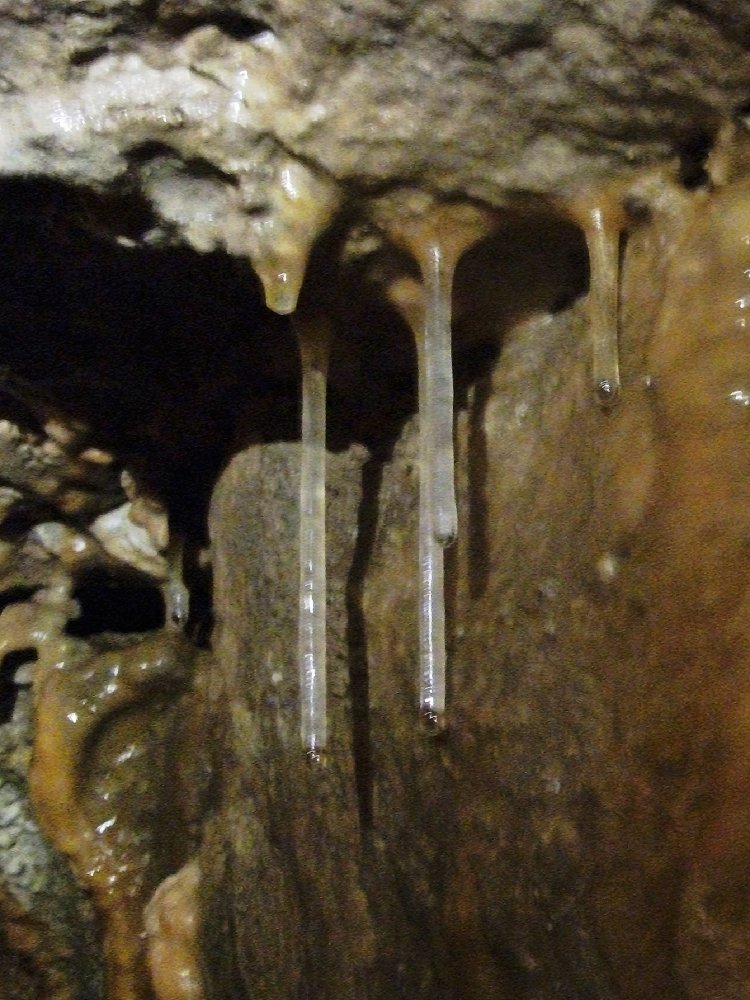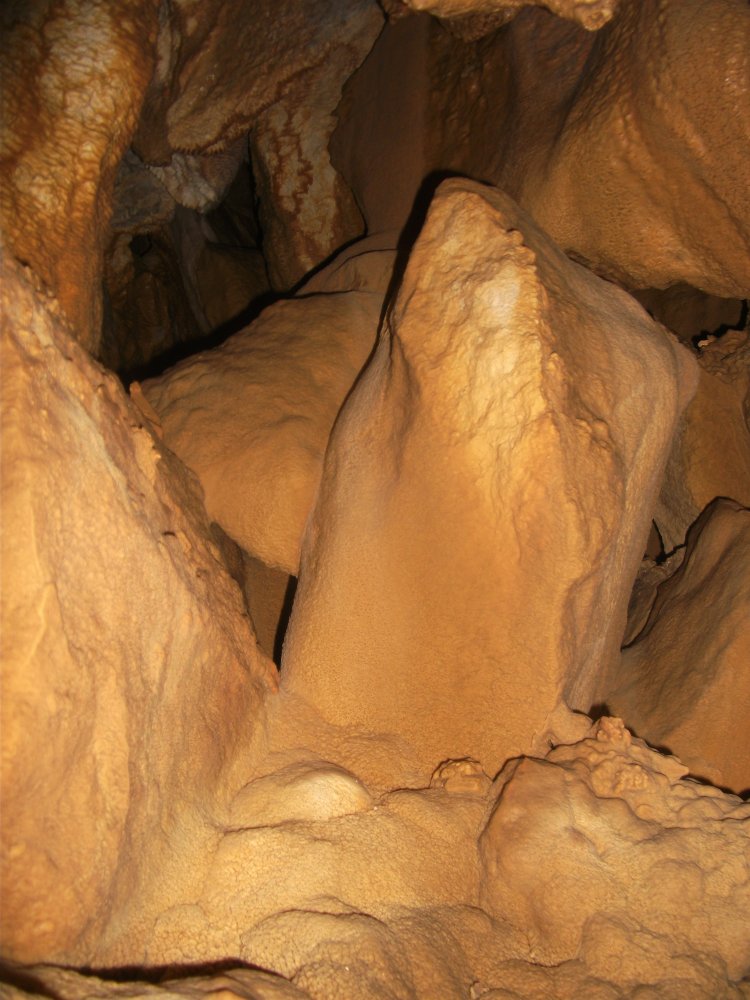 About to give up as a bad idea Mike decided to have a look at the floor prior to the flowstone. There was certainly gaps amongst the boulders but I certainly didn't share his optimism for there being a route underneath. We decided that before leaving we would spend 30 mins shifting rocks and see what happened. Suddenly things started to look more interesting with an intriguing, drafting hole appearing down and to the right. Knackered, but excited we left forming a plan to return. Two days later, equipped with heavy tackle sacks the two of us made our way along Gold and Silver Passage to once again find Sandy's Northern end. We had move a fair amount of rock including splitting a few before the main event began. A mammoth sized boulder lay between us and the void we could now clearly see below. Several hours later having exhausted 8 drill batteries, then ourselves with the 'desperation hammering' the boulder had beaten us. It was this return trip (now in our third visit to Sandy in under 2 months) back along Gold and Silver and out the entrance tunnel whilst totally knackered that really cemented our hatred of this cave. We just simply had to make the damn place better. Pictures from left to right; 1. what remained at the end of the day, 2. desperation hammering, 3. peering down the hole.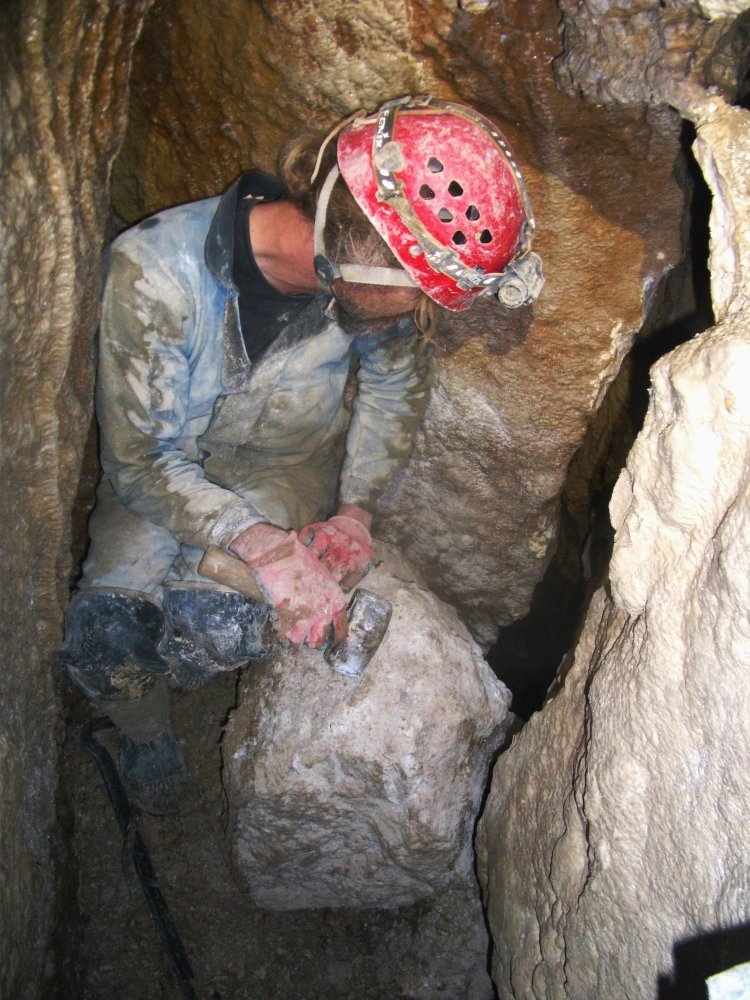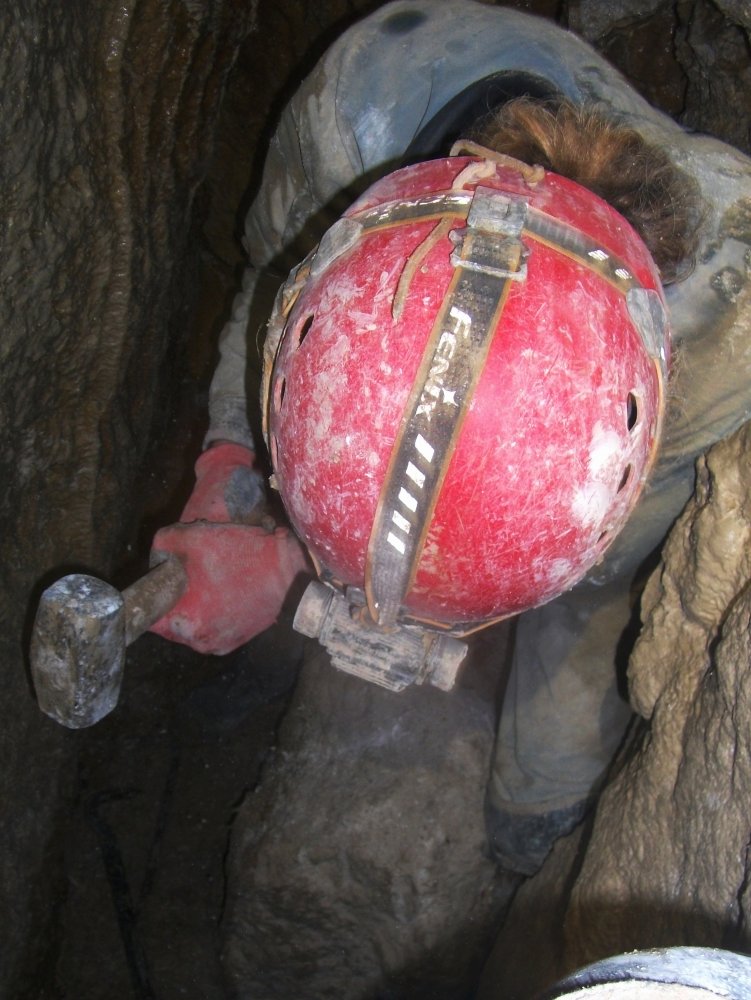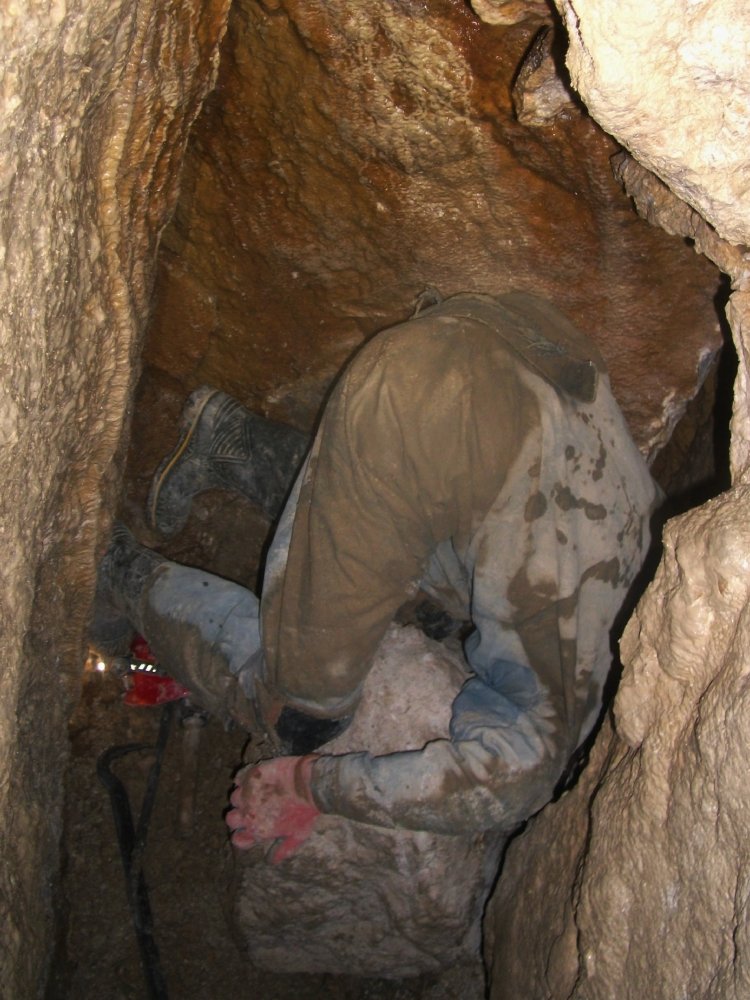 The photos don't show the full extent of the boulder as the other half is buried below floor level and the far side cemented with flowstone to the back wall. To give an idea of how much we'd moved the floor when we started was about a foot above Mike's head in the first photo. The very first drafting gap we peered down was the small hole right in the very top right hand corner of that photo the other side of the flowstone bridge linking the two walls.
Move forward a couple of weeks to 07/08/22 - we both had a free day to return to Sandy. We went through another 5 batteries on that damn rock but it eventually succumbed. Unfortunately the gap wasn't quite big enough. A bit of chipping away here and there and Mike was through. A little more and the fatty of the team (me) could fit as well. Time to explore....
Breaking news; thou shall walk in Sandy Hole. We'd broken into a very sizable section of rift which was much wider at this lower level. This is certainly one of the widest known rifts on the island. Soon the rift opened to the full height which must be at least 10 m. Unfortunately after what we estimate to be only 20 m the next flowstone / infill blockage was found. Mike did a bit of climbing but it didn't look like there was a route over. It looks diggable but it won't be a quick win (my guess a few trips). Back at the breakthrough point passage can be followed for approx. 10 m back underneath much dodgyness to end at a choke. This would be somewhere under the route to the dig so not worth bothering with. Although only a modest gain the new section is a respectable size, hosts a few pretties and has good potential to yield more cave. The breakthrough point is still snug and needs a bit more work when we next return. In total we estimate an additional 30 m has been added to the cave length.
The breakthrough point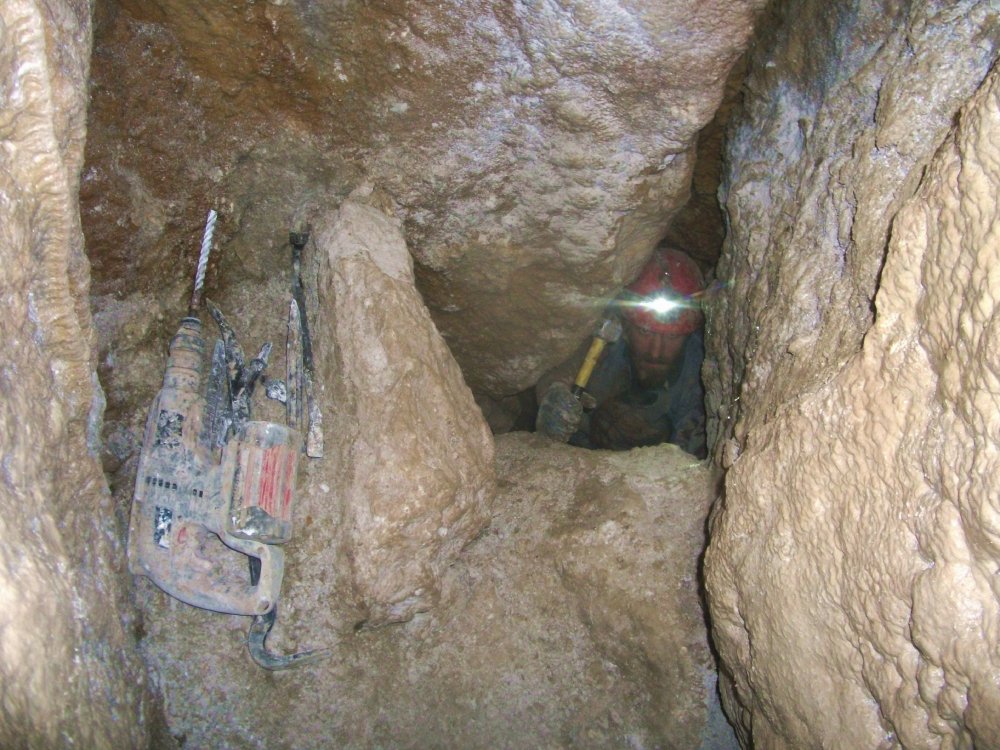 The great abyss beyond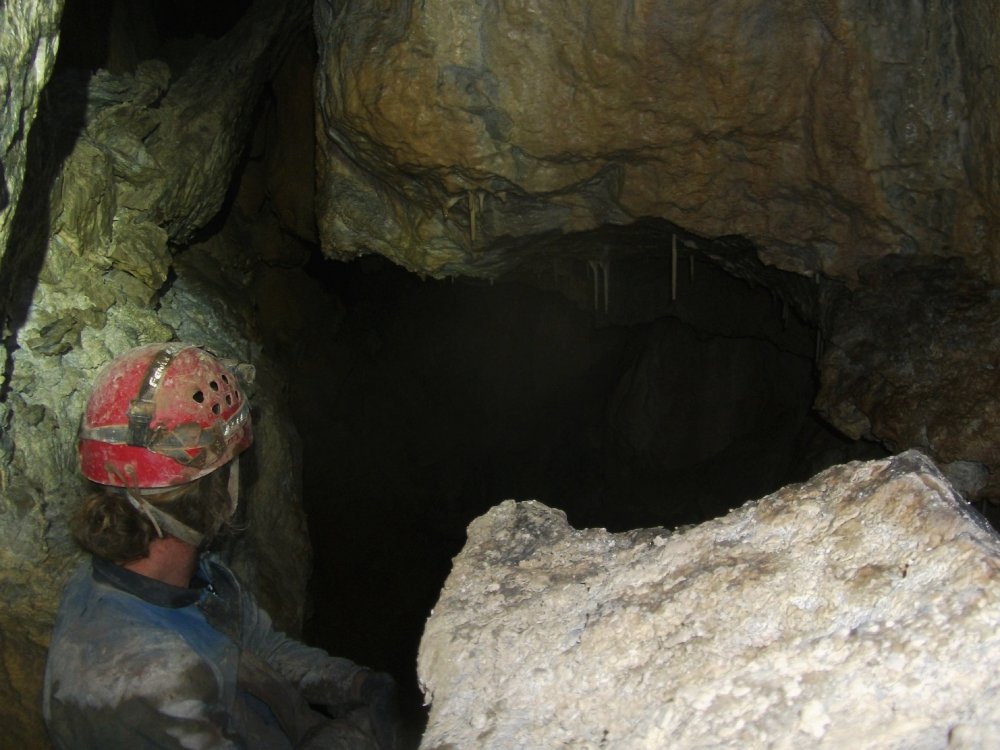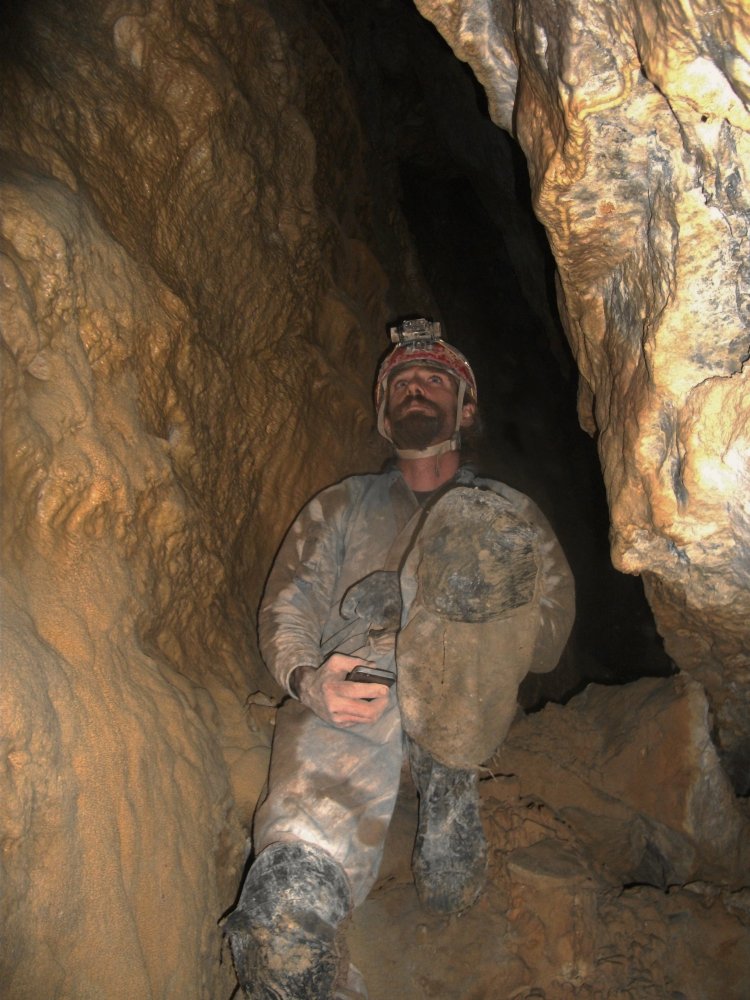 All Portland rift have one (well at least one!)