A few years ago myself and Richard had this mad plan to find and document all the caves on Portland mentioned in the book which still existed. We got around most of the listed sites but got distracted and never really finished. A couple of months back we agreed it was time to take a look at Clay Ope Dig, worked briefly in the late 80's (if I remember what I've read correctly) but abandoned due to the difficulty of accessing it.
The first job was to locate it which was done back in March from a suitable vantage point. Next, was to get to it! Our first attempt was to access from above down a useable looking gully about 50 m away. Unfortunately, despite our best efforts, 70 m of rope and a random assortment of trad gear we didn't get there. Our second attempt was on 22nd April; we followed the route used previously, parking in Chiswell, walking to Hallelujah Bay and then scrambling up the scree. On route we noticed a 'black hole' about 200 m north of Clay Ope Dig so scrambled up to that to find it was nothing more than a rock arch. Back down to sea level along the bay and then scramble back up the next scree ridge. It got a bit sketchy high up and so the 'chisel belay' was invented. Turns out a cold chisel or crowbar banged into the ground is 'good enough', probably doesn't meet the relevant British standard for ground anchors though. Eventually we got there and found the old dig. We struggled to see what inspired those of the past, took a couple of photos and quickly agreed there was little point returning. To us it appear to be little more than a mud filled undercut running parallel with the cliff.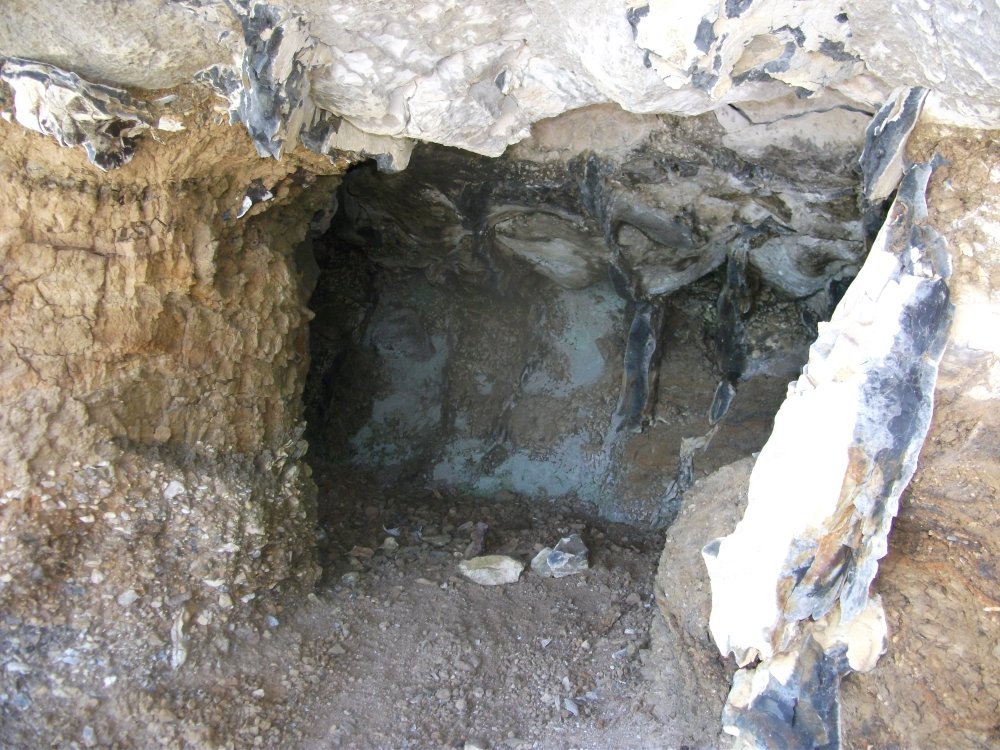 Just before setting off on the dodgy decent and the hour long wander back to the car we thought it sensible to have a look around in case there was anything nearby...
Approx. 2m to the South of the previous dig was what appeared to the a rock filled opening heading straight into the cliff - had the former diggers really miss something obvious? A few minutes with the crowbar and is was clear we had a small vadose passage: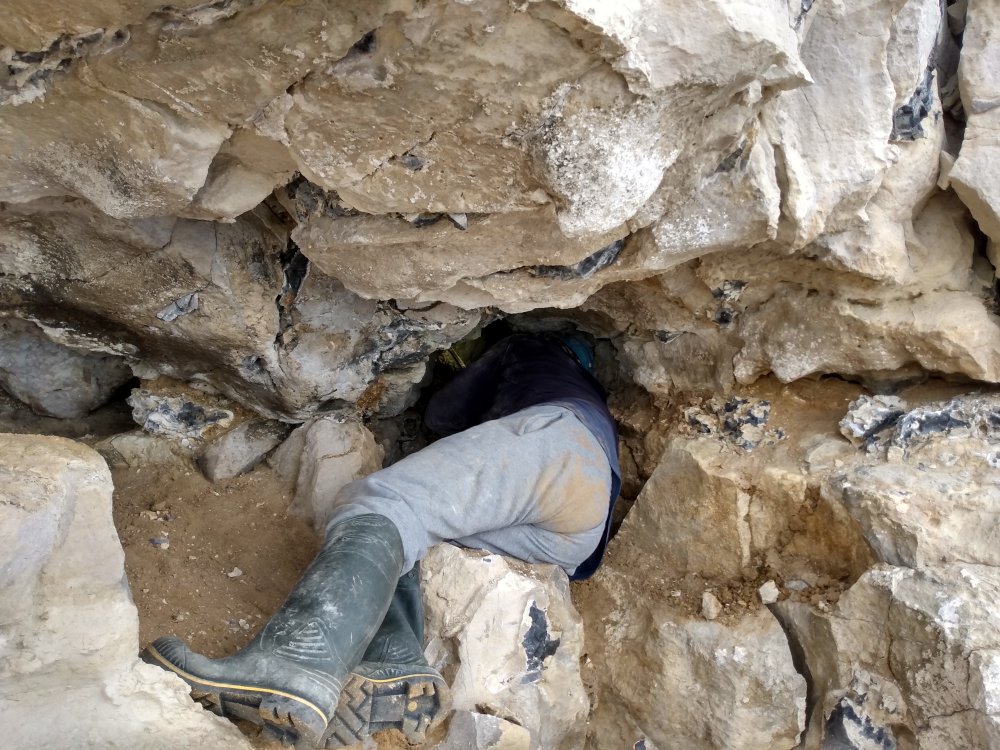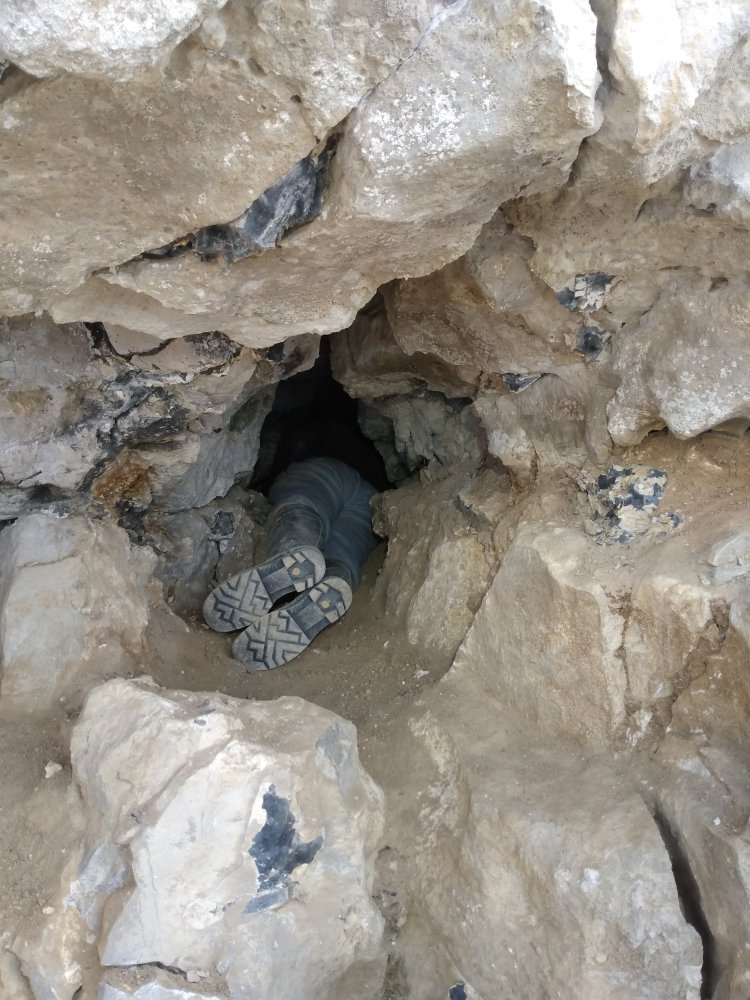 We also noted a potential opening approx. 3m below this one, but that looked really dodgy! Having changed our minds about returning we set off back to the car.
The next opportunity we had to play was the beginning of May. Both of us agreed the route from Chiswell was far too much effort so we decided to create a path from our gully looked at previously. It took a few hours but a couple of stakes, 4 bolts and a lot of 'roped gardening' got us to the cave and established a 'path' - in the very loosest sense of the word. That only left time for a quick bit of 'cave hoeing' but at least we now only had a 10 min commute.
Beyond the initially removed rocks was a Vadose trench full of mud. We found the best technique was simply to hoe it out. We mad another visit in late May and made a lot of progress but ran out of steam so another trip at least would be needed to determine if this was anything significant.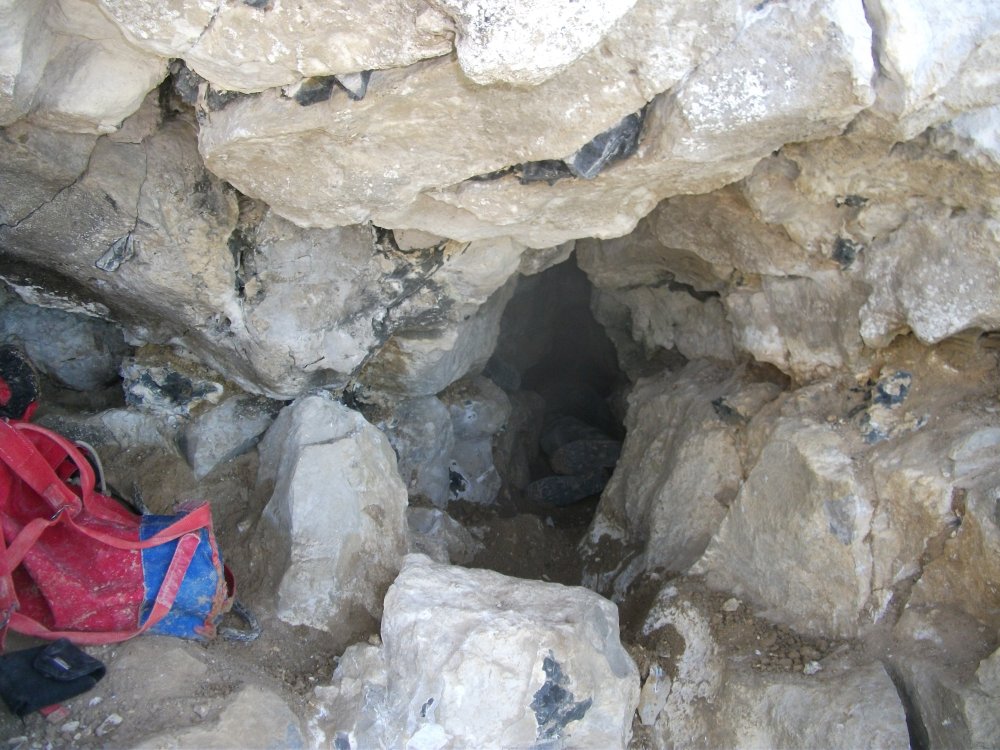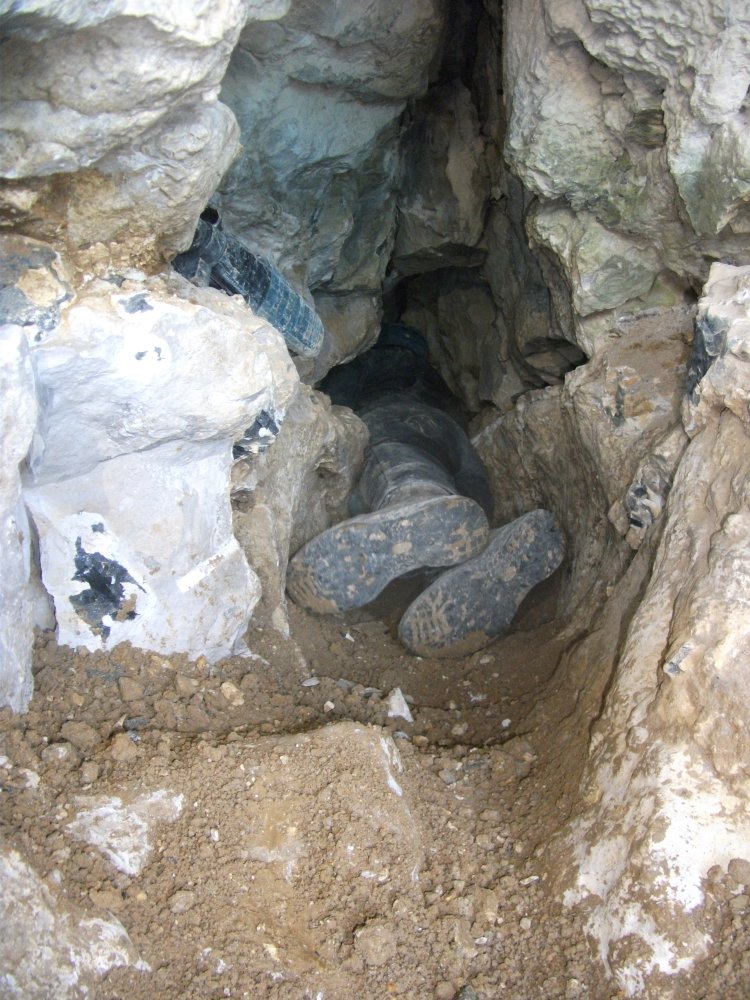 We eventually returned today armed with 50 m of rope to traverse the path, some tools and yes, you guessed it a carpet. I know I go on about our carpet drag trays but they really are brilliant. This one was made small and thin and worked perfectly. Approx. 25 carpet loads of mud and an assortment of rocks were evicted before we found the end of the vadose trench and a bedrock floor. Unfortunately the cave simply becomes too small and any further progress would be nothing more than breaking through solid rock with no indication there's anything beyond. I'm a little mystified what's formed this 'cavelet' but we've called it Clay Ope Cave and it's approx. 6m of shear delight. A few photos, a tidy up and that's another ticked off. The true Portland scrote hole for the scrote holing connoisseur.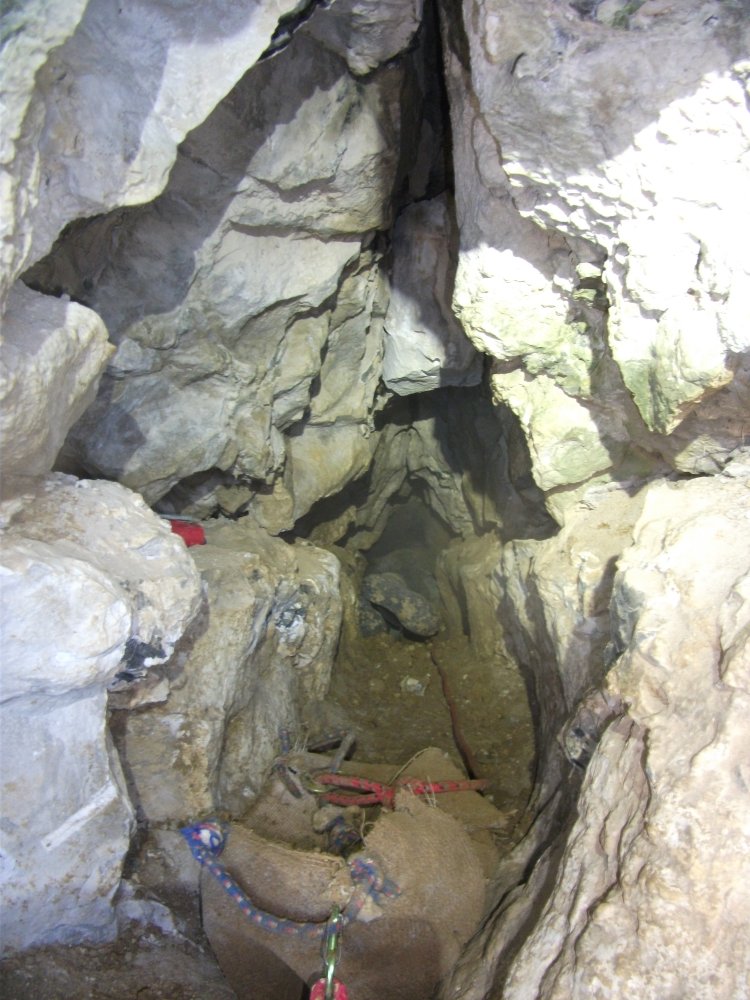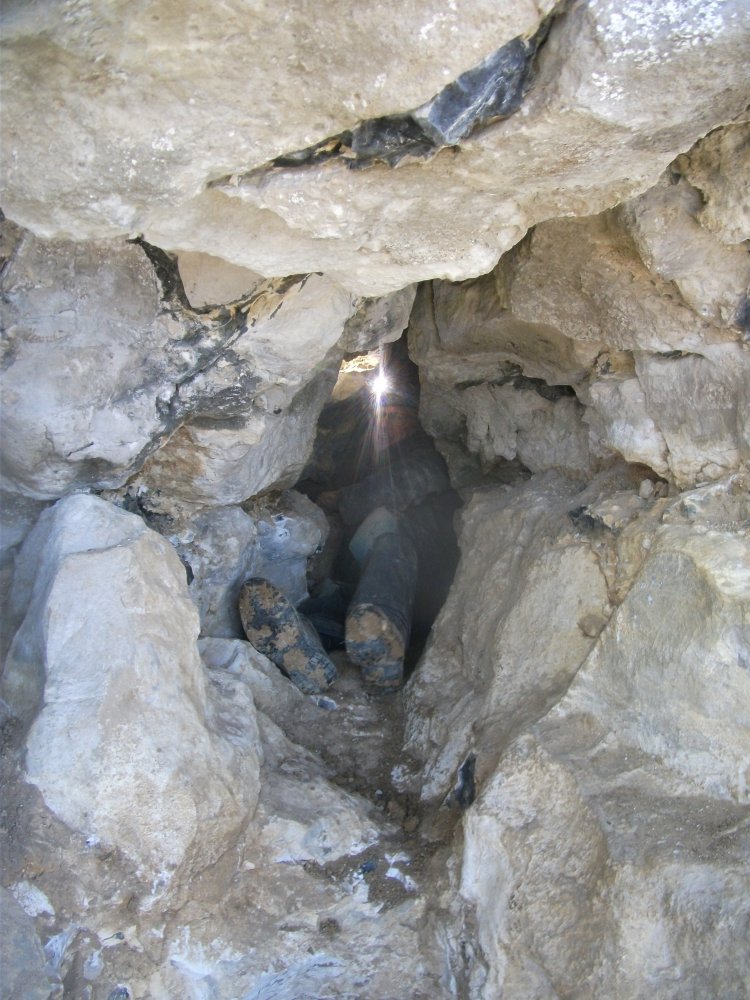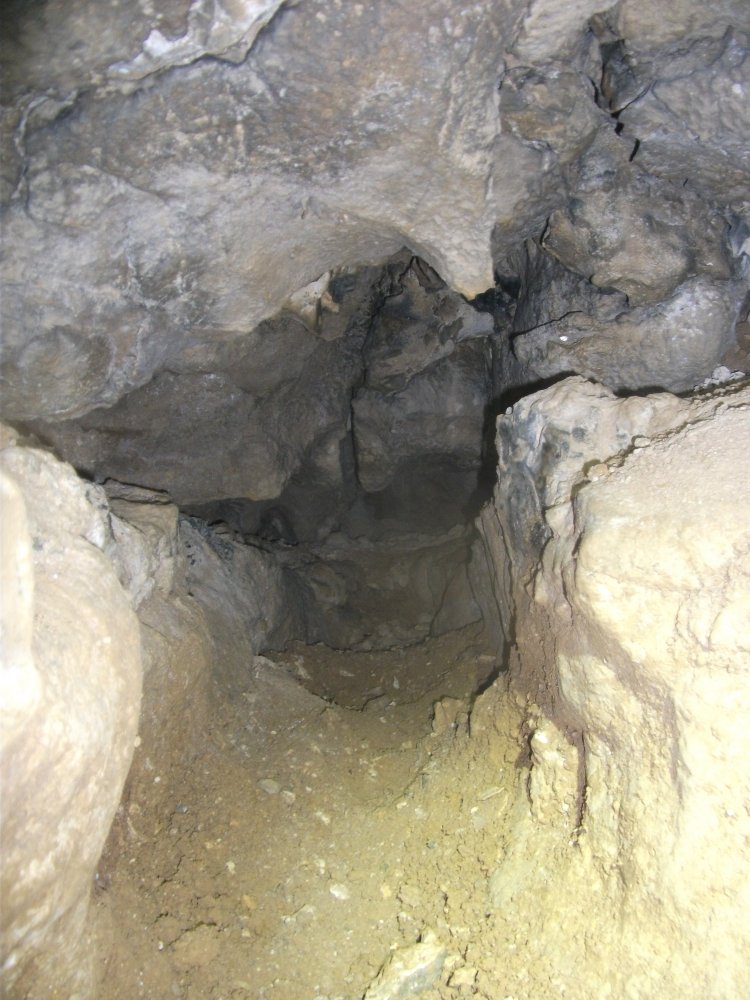 The caves are crap but the entrances often make good photos...