Administrator
Staff member
Remember I mentioned the draught.  Sometimes it was stonking out and other times nothing at all.  Well, on the first breakthrough into Autumn Chamber several of the team mentioned that a good draught came out of holes on the left hand side, ie, the opposite side to the rift down to the stream.  Clearly we were distracted by the later but also, on the occasion I looked at them, they were pretty draughtless.  The holes then got buried by spoil whilst uncovering the stream rift.  However, these holes were the last hope.
They were uncovered and the draught was encouraging ? a proper blower on that day.  Digging wasn?t easy, solid rock with sticky mud and boulders in front.  Digging down uncovered a thin bedding but the bedding rock above must have been in tension or something as each set of caps only brought off small fractious chunks.  It was going to take a while to dig we reckoned.
Bones at the start of the bedding dig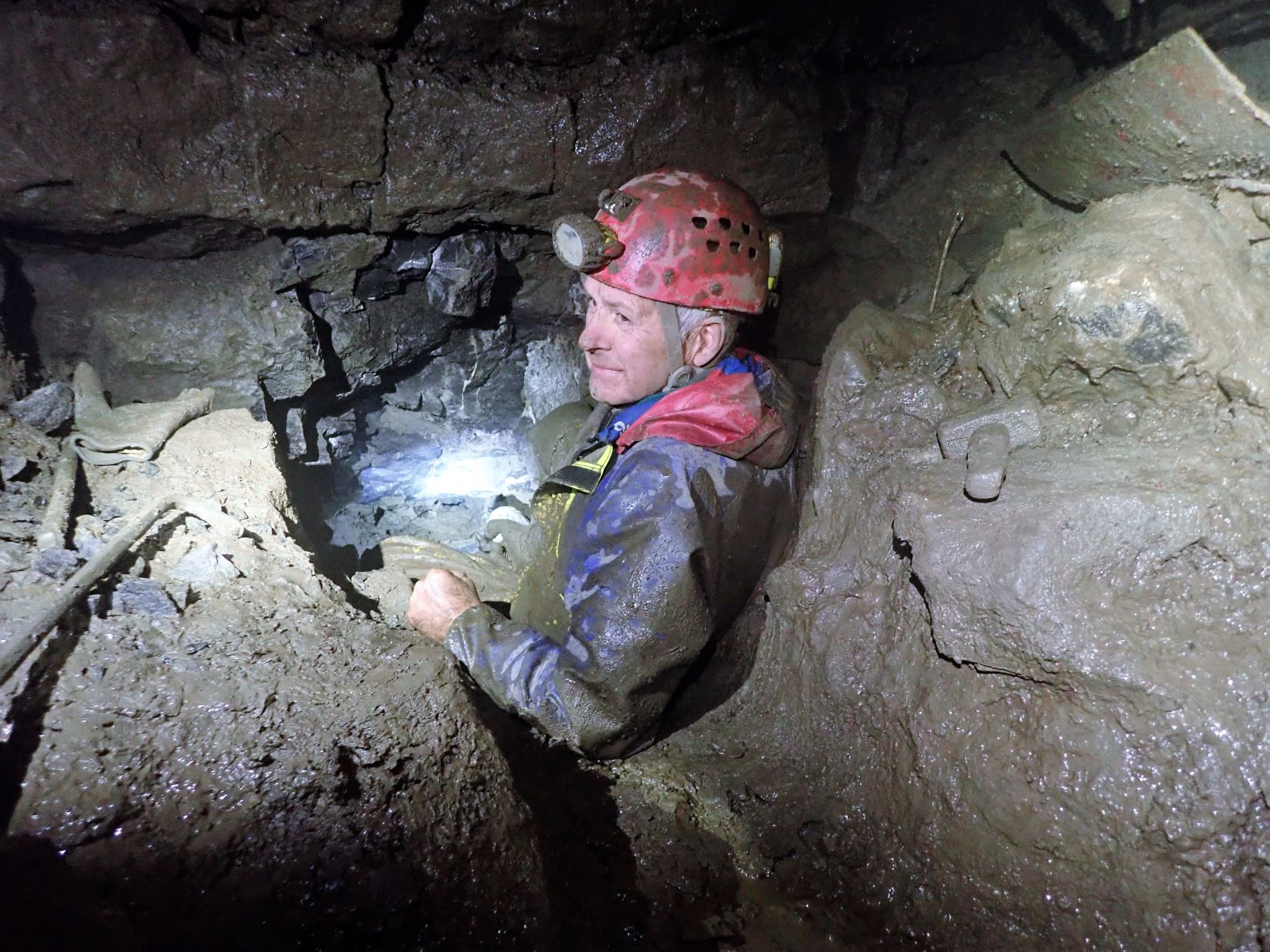 Little progress after a few hard trips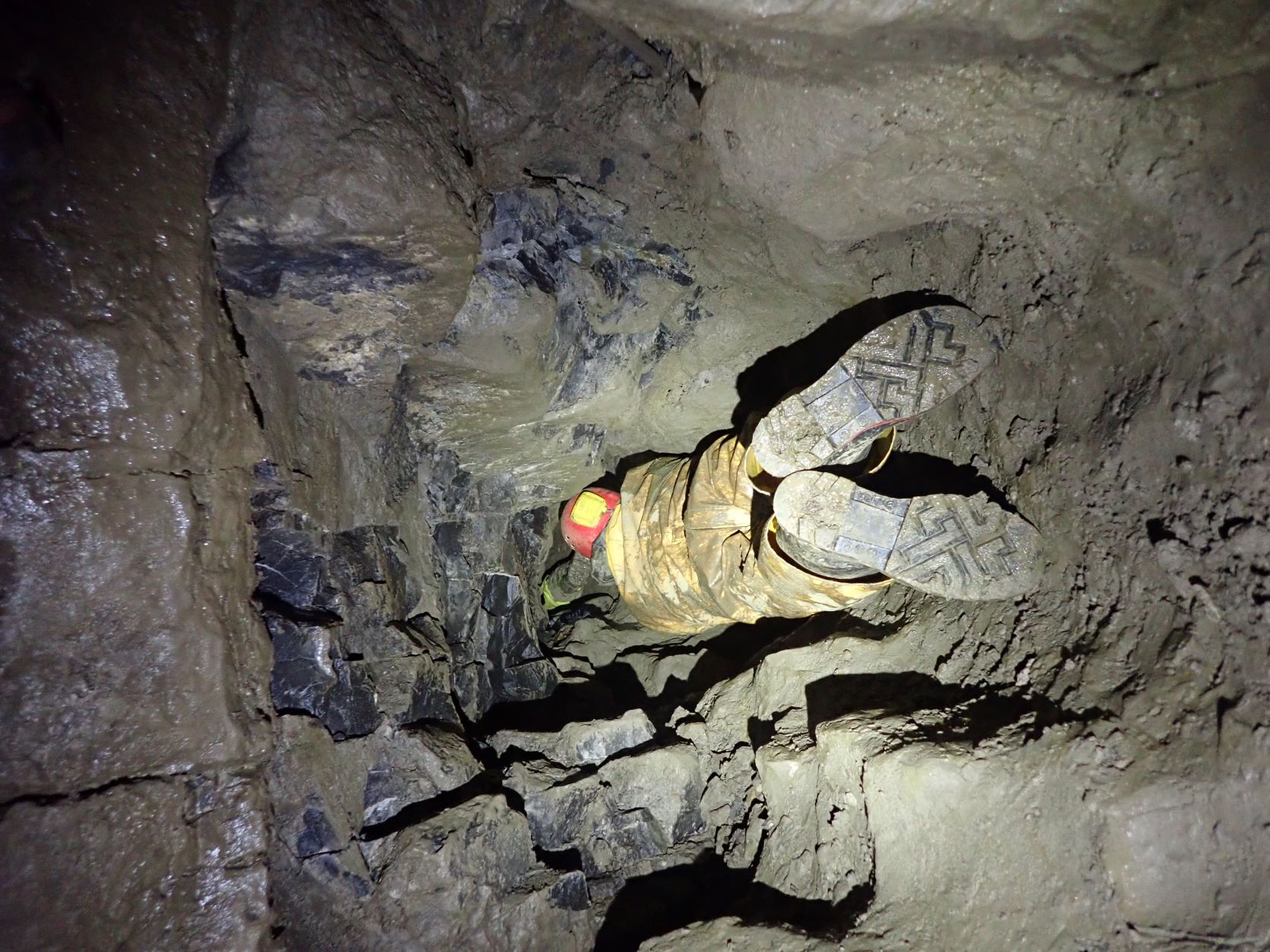 Not that we minded that but there was a problem.  We had six to eight people turning up keen to dig but there was not enough for most to do.  Before, everyone was helping to haul up to the surface but now one person capping and one throwing the spoil down the stream inlet passage was all that was needed all trip.  After a couple of sessions with half of the team wandering aimlessly about the fell Mick came up with an idea.  While we had a big team, let?s go back to Five Ways where the dig there could easily use up six or eight people ? and that dig looked equally good.  We?d return to Fing Hopeless when we only had three or four turn up, plus it would be a good change of scenery. 
So off we embarked for a series of trips up the much longer route to Five Ways Pot on Ingleborough.  There is a separate thread on that dig and it is still active so please leave the digging there to us.  Anyhow, at that time, as luck would have it, Dave and his mate were looking for a new Tuesday night dig and offered to plug away at the bedding in our absence.  Now it took a few weeks before he got around to a trip ? and he brought along three mates instead of one!  Well, they had a good night as it turned out because in a single shift they managed to enlarge the bedding to a point where the view and the echo became intoxicating.  Pushing on late into the night, eventually one of them got through to the head of a fairly significant pitch ? not too deep but wide, well developed and encouraging in every way.
The next day the rest of us had arranged to meet for Five Ways again but a message from Dave soon had everyone quickly making plans to change venue and me racing home to pick up a ladder and line (Five Ways didn?t require SRT kits and so not everyone had theirs with them).
I got down to the bedding first and managed to shoot through fairly easily.  The bedding emerged on a broad ledge with some calcited blocks on the edge and a pitch of around 8m dropping down into what looked like a well-developed passage.  The size of the hole was a good 2x4m across but the ledge extended further all around.  The roof was fairly flat but a slight arch drifted off to the right into what might have been a continuation across the pit.  On that side a bank of sandy sediment sat on the ledge and a grovel over it revealed a low bedding of some sort which would need further investigation.  However, the pitch was beckoning.
Our digging team comes in all shapes, sizes and stiffness of bone so we have an unwritten rule to make digs ?wheelchair friendly?, open for everyone, if you know what I mean.  This meant the bedding needed enlarging.  It was pretty filthy muddy in places but that made it easier to dig from the far side and I set about that.  Dave, Mick and co set about capping the solid bits from the far side.  After about an hour?s work it was declared big enough for all and gear was passed through to rig the pitch.
Descending the pitch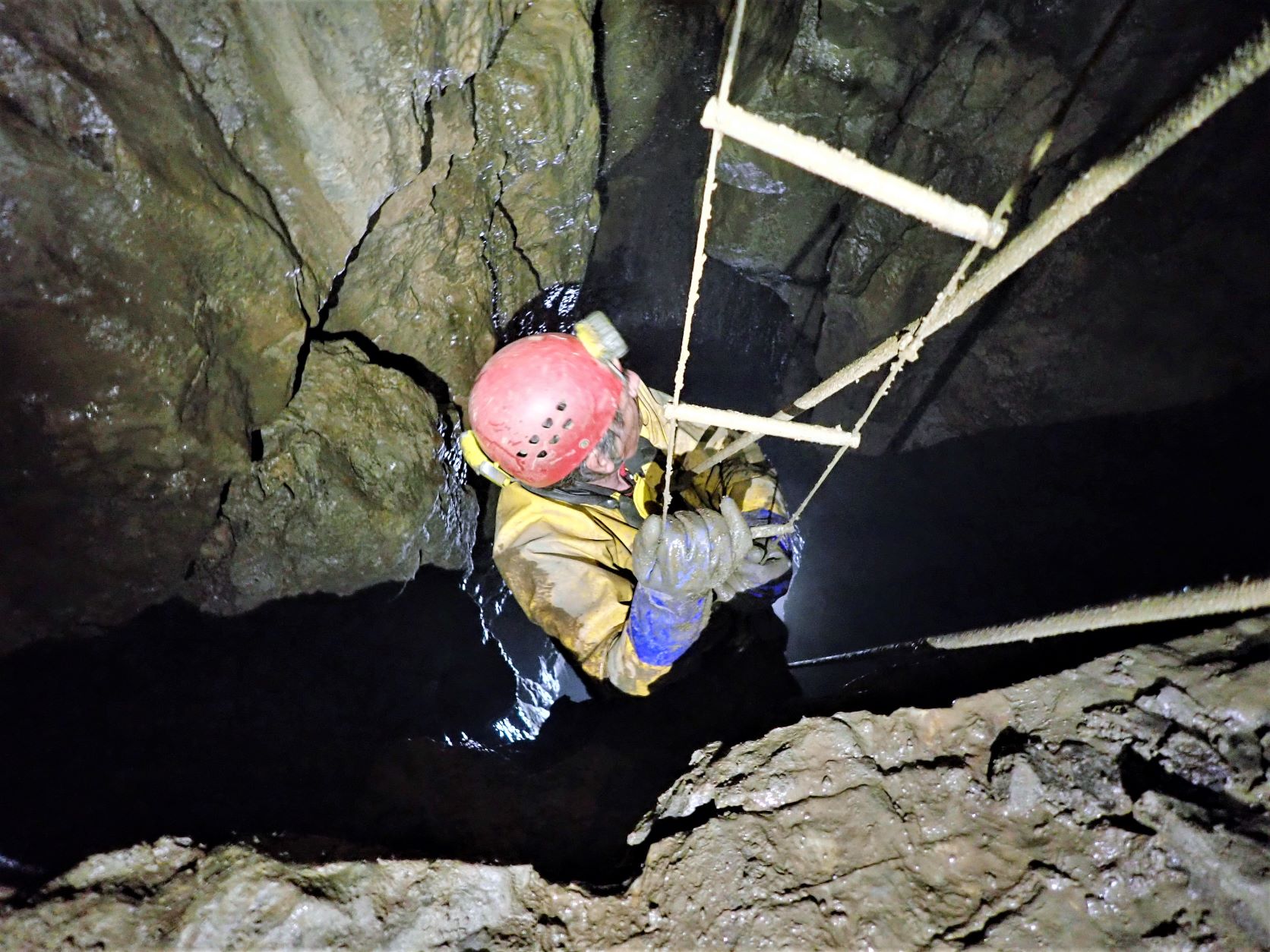 Looking back up towards the pitch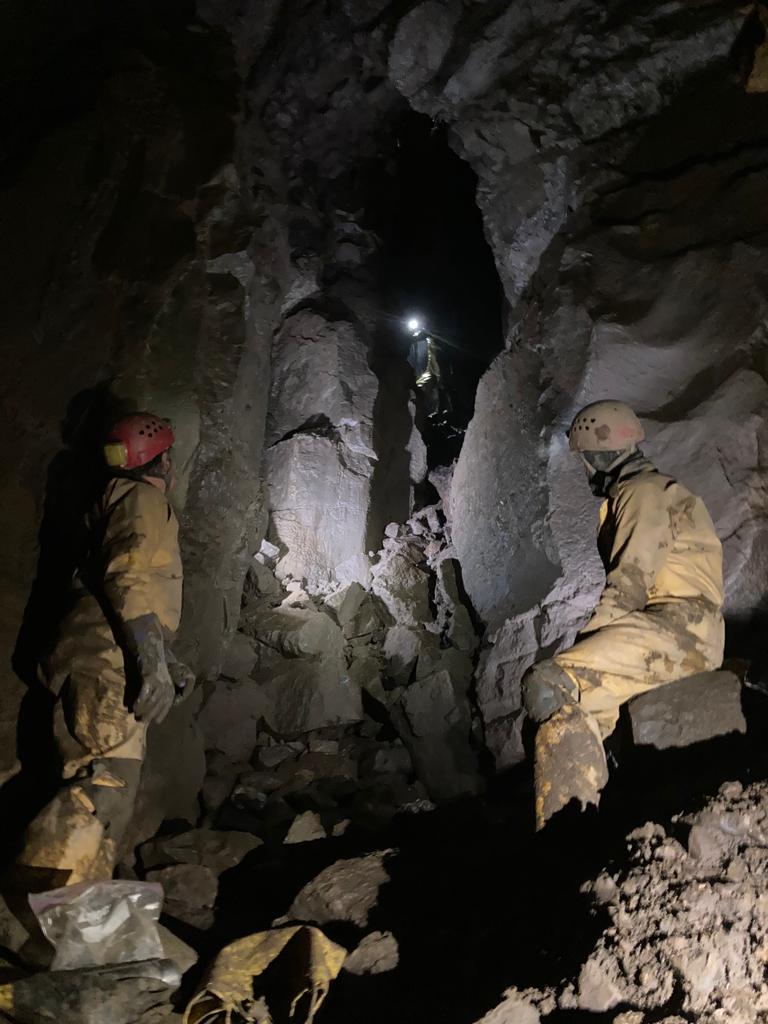 The chamber or junction or whatever it is, but something significant anyway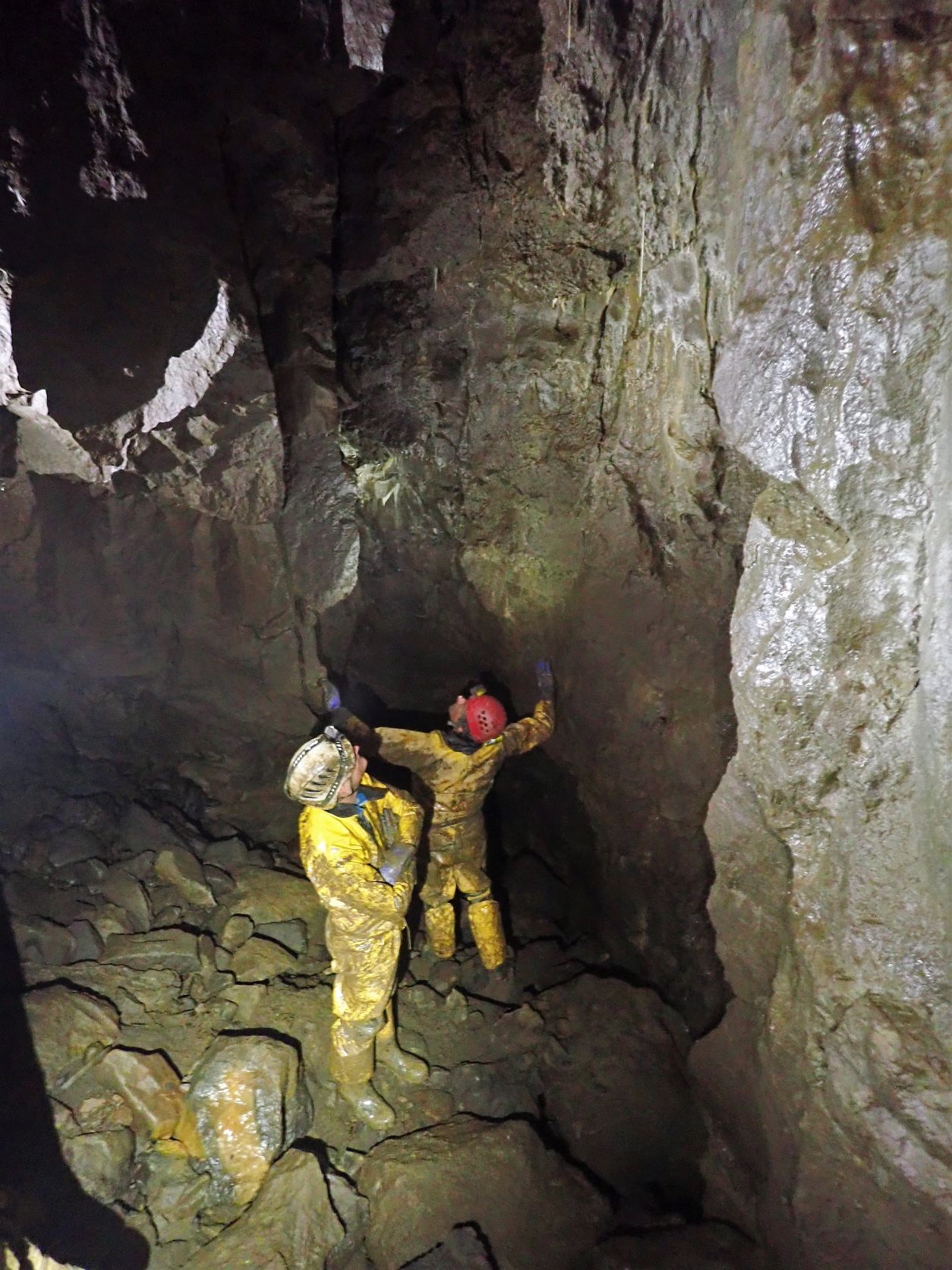 The pitch was a full ladder hang down a calcited wall.  On the far side a couple of inlets brought in a tiddle of water which kept the boulders at the bottom clean.  A gully continued down a steep slope of boulders to a junction or chamber if you like.  Anyway it was big, definitely big and perhaps quite a major piece of development.  There was a roof passage, an inlet passage, a crashing stream but the most exciting thing was the rounded scalloped wall at the bottom where the steep slope of boulders came to a halt and from where, between dark spaces a cool wind blew. 
This is the way on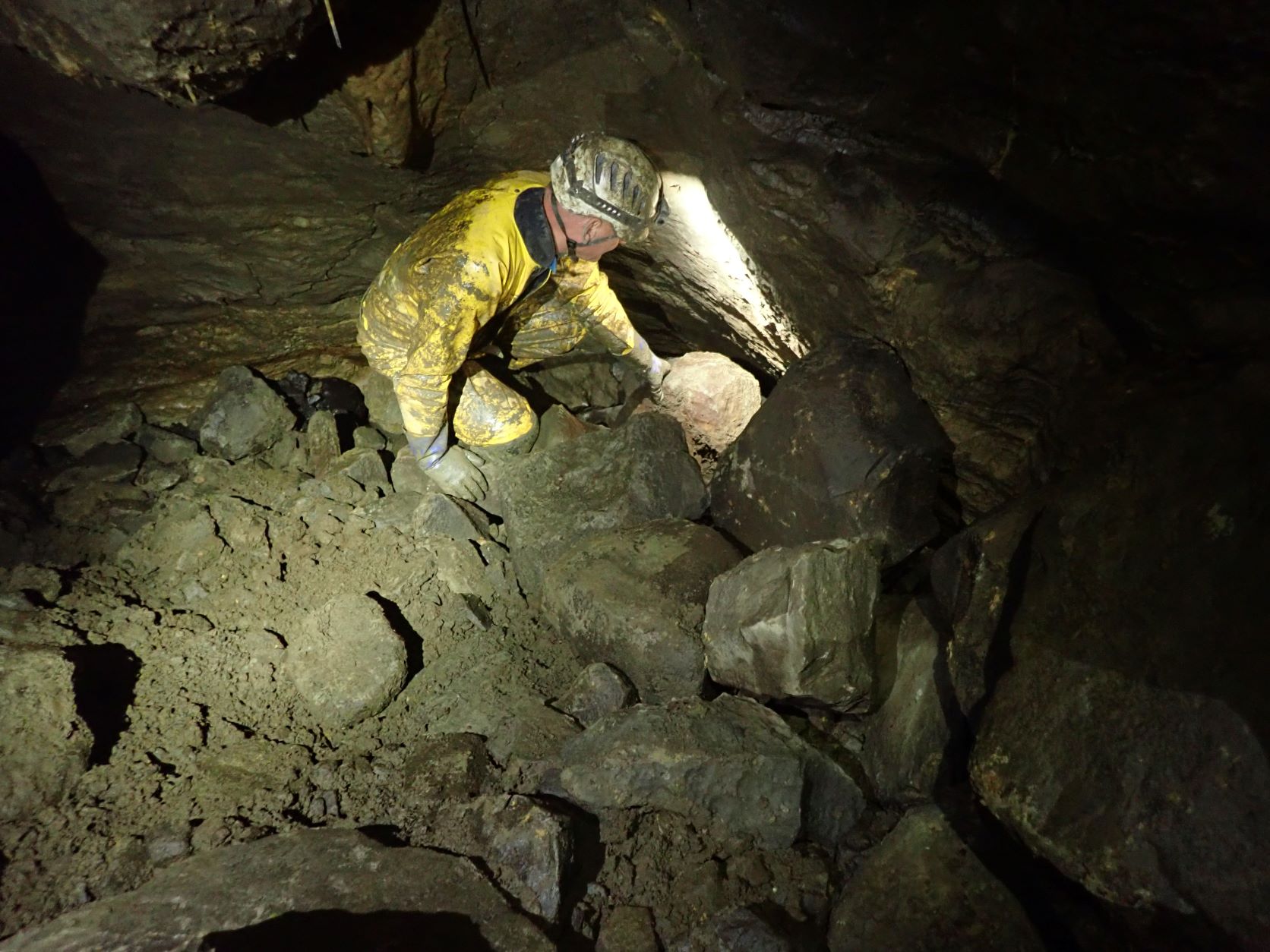 This short but significant breakthrough needs more of a description and I?ll tackle that in the next instalment.
What is also worth mentioning at this stage was how well the three behaved who made the lucky breakthrough with Dave.  They obviously recognised the effort and expense we had put it to the dig and stood well back whilst we had our fun.  They have since been and looked around and helped out with a number of tasks.  Not mentioning anyone?s name but not everyone was so restrained, eh 
Photo credits to Franklin and one from Nick.