NAMHO 2022
This weekend just gone I attended my first NAMHO Conference, the mine explorer equivalent to Hidden Earth. Being a caver primarily, and a mine explorer as only an occasional jolly, I have never really thought to go to NAMHO before.
However, this year the event came to my home patch; Grosmont in the North York Moors.
It seems that NAMHO rotates around the country, each time organised and hosted by the local Mining Heritage Society. This year was the turn of the Cleveland Mining Heritage Society (CMHS), with who we (the North York Moors digging team) have good contacts, including a few of their members who have been digging regularly with us for years in Jenga, Excalibur and numerous other less glamourous locations.
We were asked to help, from leading trips, bringing and running the AV equipment for lectures, making packed lunches, setting up the facilities etc.
Some people arrived on Thursday night, but most Friday. The main hub for the event was St. Matthew's Church in Grosmont, only 200m from the heritage 'North York Moors Railway' station in the centre of the village, where steam trains run all through the day. This is a stunning location in the middle of some of the Moors' finest scenery. As you will see below, the signage quality was to the highest standard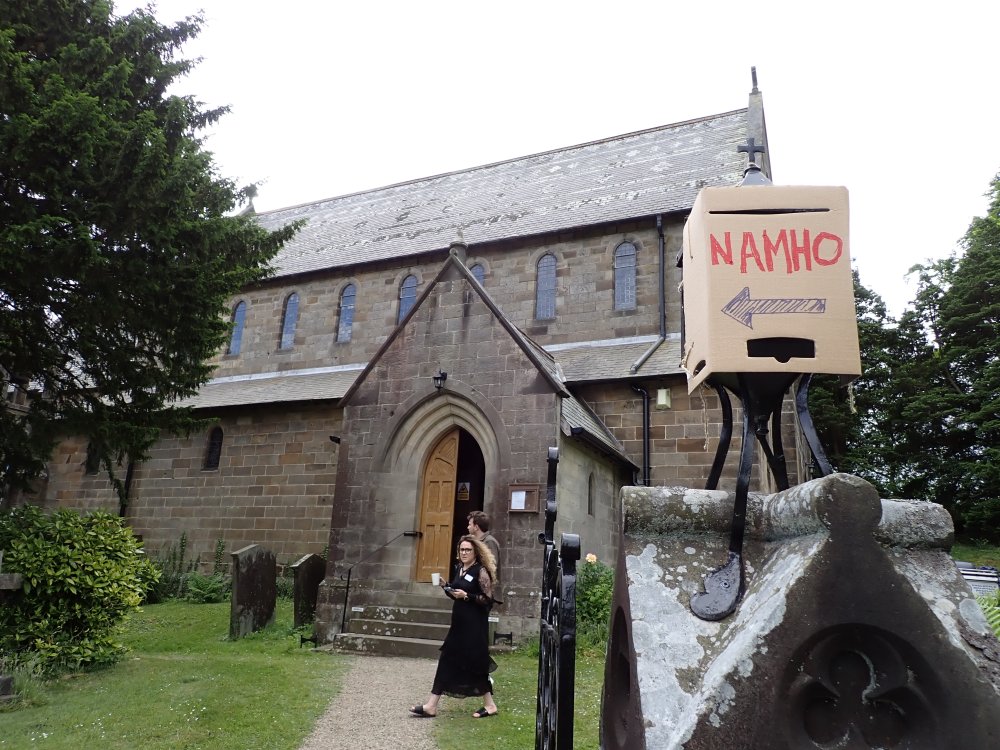 The camping and bunkbarn were about a 10-minute scenic walk away along the railway. Both the camping and bunkbarn facilities were excellent.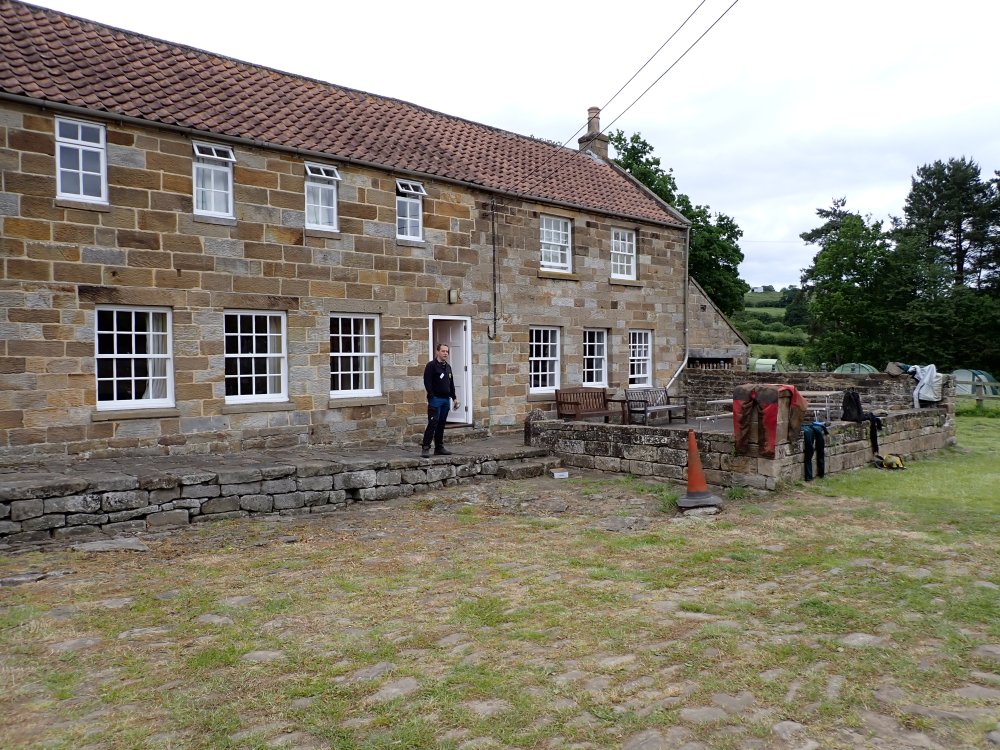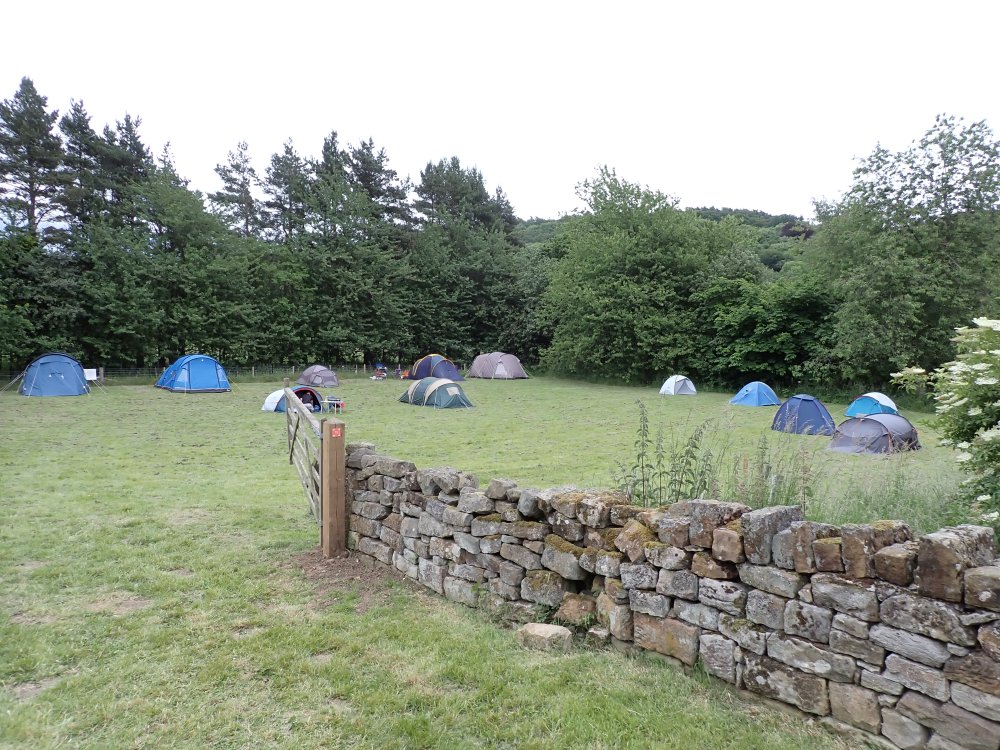 On Saturday and Sunday, there were several guided trips to local mines, including Jet, Ironstone and Whinstone, which had been organised. I understand that these were mostly booked up in advance when people signed up to the event. I think there were also some guided walks happening too, taking in some of the industrial archaeology of the area, which has been largely sculpted by the Eskdale Ironstone mining and the mining of the Whinstone Ridge. Most of the trips were short, and some people attended multiple events through each day, really making the most of the weekend.
The weather was kind for the whole weekend, and everyone was in good spirits, enjoying a few late afternoon pints in the sun.
For those not going underground (including myself), lectures ran both days. These were much more appealing to a mere caver such as myself than I had expected. They included talks on the ironstone history of the area, and then a journey along the extensively mined Whinstone Ridge crossing the North York Moors (by Rick Stewart, who nearly 20 years ago co-authored the Moorland Caver guidebook that got us interested in the area... very nice to finally meet you in person Rick). There was a rather good talk on iron ore processing, an excellent lecture on the Boulby Potash Mine (a one-mile deep mine near Whitby, which is still operating), plus other talks covering nearby jet and alum mining history. The quality of the presenters was extremely high and well organised.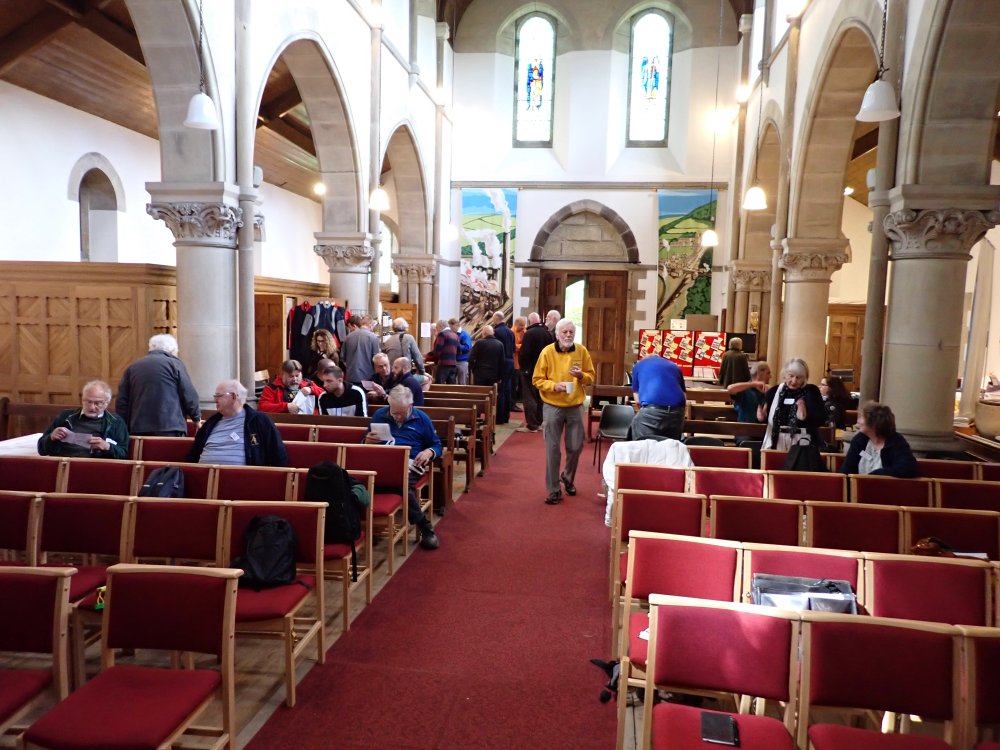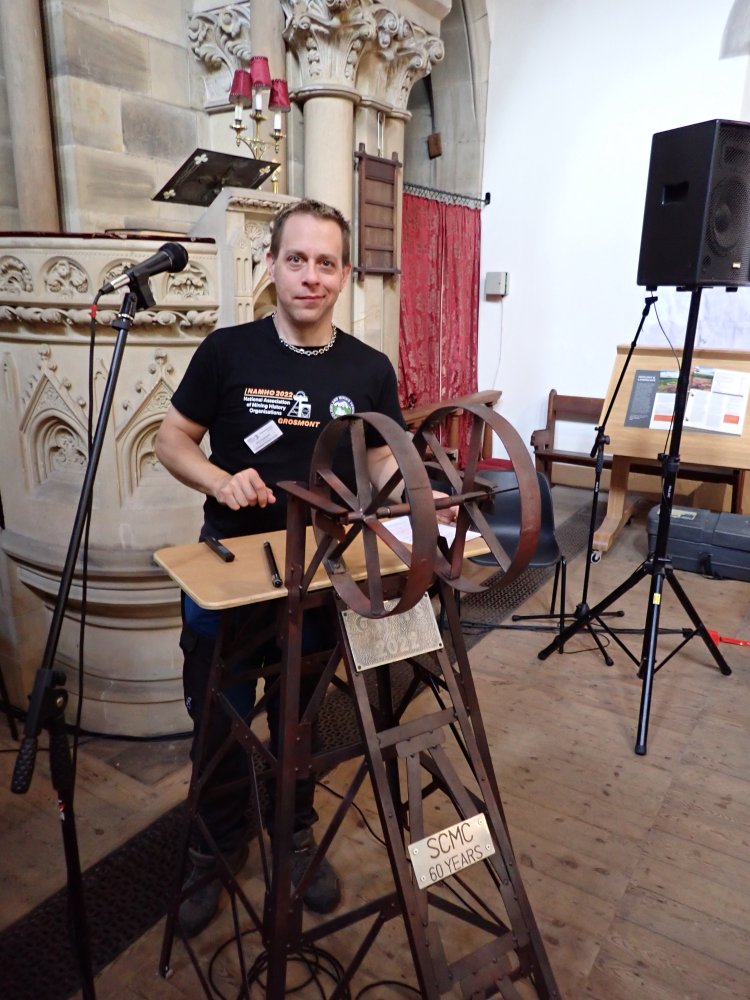 No... Gary was not presenting... just testing the AV setup
The lecture hall hosted a popup Starless River shop for anyone needing some new kit… and yes, of course, he was wearing shorts!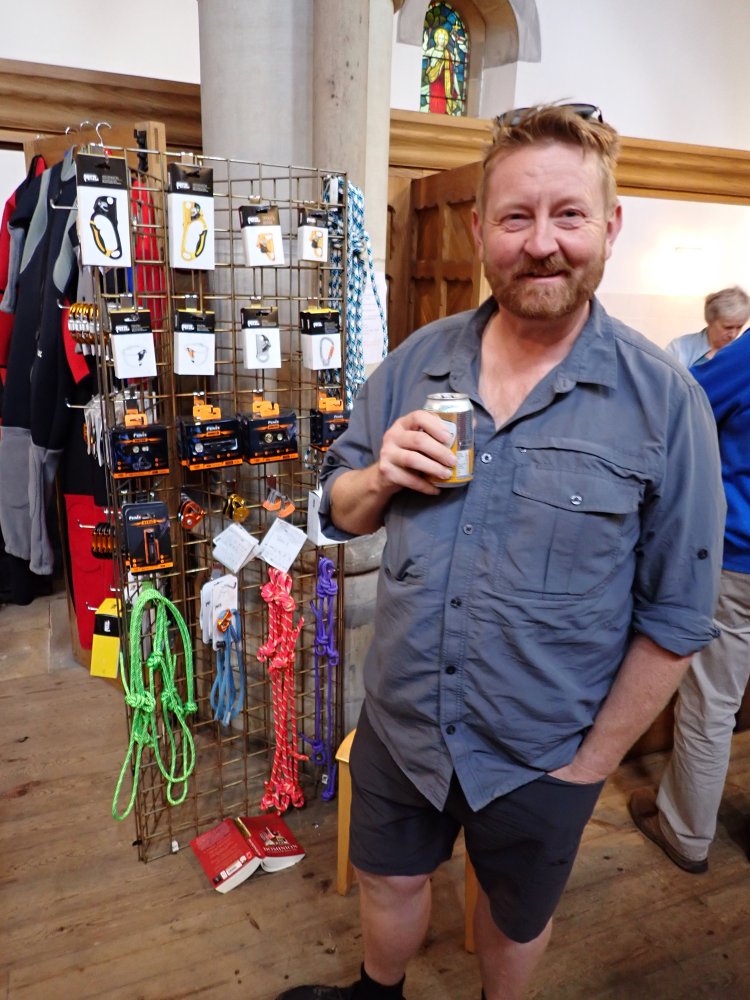 Most critically, at the back of the hall was a bar with four different beers on (although we drunk it dry by 8pm on Saturday resulting in volunteers carrying trays of pints from the nearby pub up to the venue… I don't think they were prepared for the onslaught of several more heavy-drinking cavers than usual).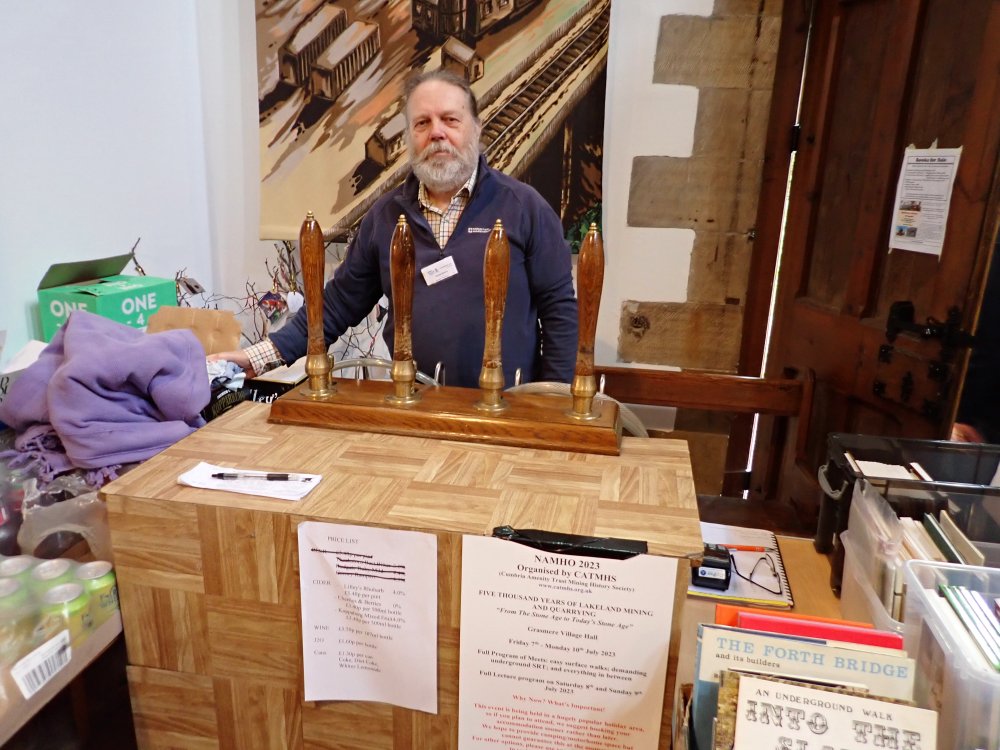 Amongst some of the displays were Swaledale Mountain Rescue Team, who were on hand, just in case of any little incidents during any of the mine trips…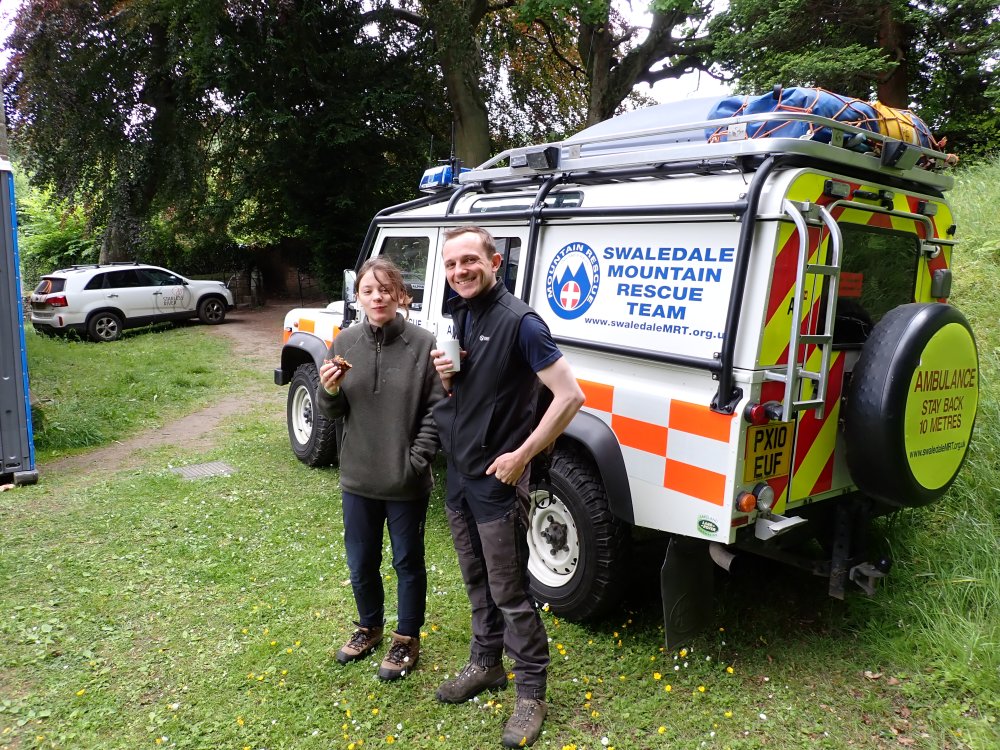 Everyone seemed to have a great time, whether on trips or in talks each day; and in-between was plenty of socializing. Both of my evenings ended around a fire basket at the campsite with 15+ people, including some new acquaintances. The Friday night frivolity involving the passing around of a bottle of Absinthe, Rum, Whisky, and some kind of strange herbal liquor. Thankfully the cooked breakfast on Saturday morning helped absorb the hangover.
Of course, there was also a lot of milling around Grosmont watching the stream trains come by. This fitted with the industrial heritage theme nicely.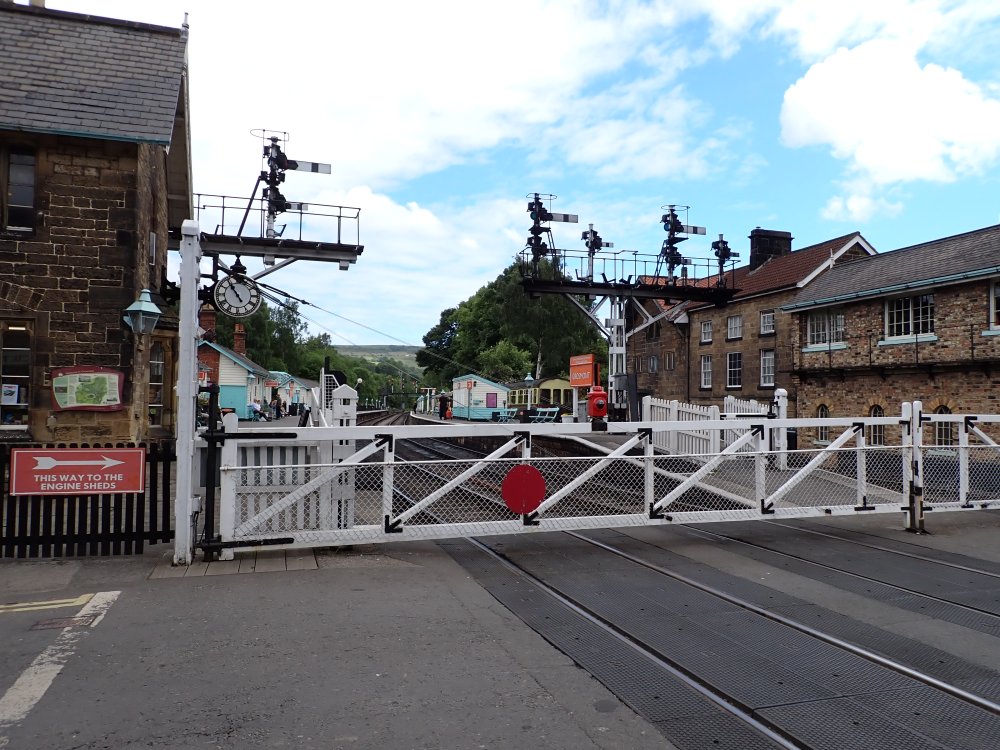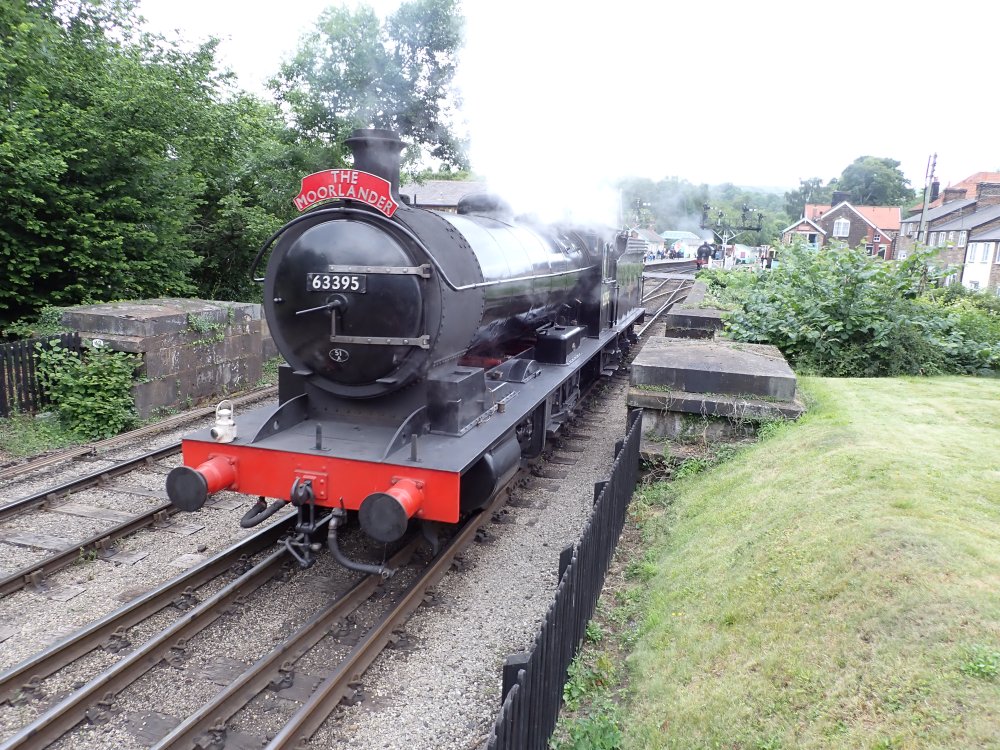 Incidentally, if anyone is ever looking for an excellent surface day out in the North York Moors; Arrive at Pickering for the first steam train to Whitby; Have a fish and chip lunch at Whitby, take an early afternoon train back to Grosmont (or Goathland for a shorter walk), then an excellent 2.5-3hr walk across the top of the moors outside of Goathland, then down into Newtondale, where you can stop the steam train at a small request stop to return to Pickering. An excellent day out!
Many people stayed on until Monday, including a group heading down to visit Excalibur Pot as a rogue caving trip. Hopefully they had a good time.
I have no idea how this compared to other NAMHO events and venues, but from my perspective as a long-time caver, but newcomer to mine exploration events, it was awesome, friendly, professionally run, and a thoroughly enjoyable weekend.
Thank you to CMHS who have put on a top-notch event, setting a very high standard indeed. For cavers reading this with an interest in mining heritage, I can strongly recommend putting NAMHO into your diary for next year (which will be run by CATMHS in Grasmere, 7-10th July 2023).