This is a joint trip report by
myself
(in blue)
and Adele (Balmerfish on UKC)
(in red)
. Hopefully it conveys our different perspectives of an entertaining day.
Those cavers that know me will be aware Fairy Holes in Weardale is a special place to me. The recent dry spell had me thinking - what would the sump look like? For those that have never been to the end, describing it as a sump is misleading. It's more just a narrowing of the cave passage with a strong draught emitting. It's a narrowing I have seen many of my friends look like they were not having a fun time in.
As soon as I turned up at the YSS barbecue I was accosted by Adele: "Do you fancy a Fairy Holes trip this week?!". I pondered and realised that not only was it was forecast to be one of the hottest days on record in the UK, but I also had a day of leave to use before the end of August. It was a good combination of reasons to go underground so I gave a tentative yes, pleased to have the chance to visit a cave I'd heard a fair bit about, but had somehow never got around to visiting.

The drive up started at about 25 degrees at 08:30, and finished at 30 degrees in the quarry. The short walk up to the cave was certainly a warm one, but the draught howling out of the entrance pipe rapidly cooled us down. It's a real shame that so much of the cave has been quarried away, but my overwhelming impression throughout most of the trip was how much cave there was, and how enjoyable the caving was. The furthest upstream extent is nearly 2 km as the crow flies from the entrance, so it's quite a journey to the end.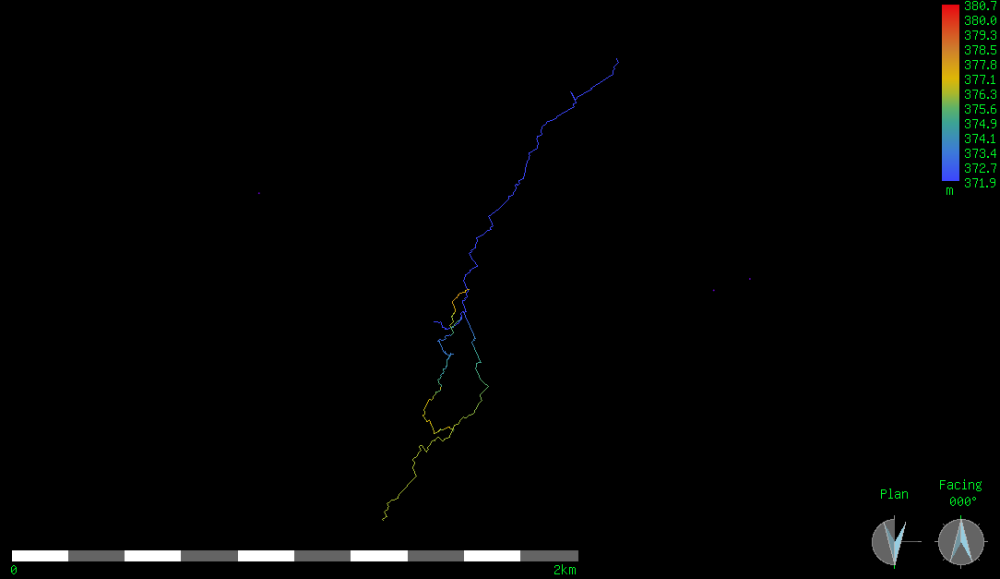 The Fairy Holes survey with the entrance at the top. The main stream runs the full length of the cave from S to N.
When Mark agreed at late notice to drive up to Weardale and have a look at the end with me I was over the moon. When I heard Mark had never been before, I promised my "full tour guide mode", and bombarded Mark with all the history, wild theories, and past work in the cave.
The crawls between the Vestry and the Sarcophagus were less hideous than expected, and we were soon stomping up the final section of streamway to the end of the cave, described either as an impassable rift or a sump depending on where you get your information.

Reaching the end, the outward draught was impressive (no sump here!) and most notably was freezing cold. Knowing it was now likely to be 35 degrees outside, it was unlikely this was coming from a nearby surface connection! I thrutched in to take a look, not with any expectations of progress, but mainly because it seemed the right thing to do. My enthusiasm was dampened somewhat by Adele telling me of the people she knew who had pushed the rift previously, who I knew full well were slimmer than me and at least as determined... what chance did I stand? Nevertheless, I decided to thrutch onwards, noting the scars on the distinctive glistening black manganese-coated(?) walls from previous attempts. Once I got to the last of these marks it was getting very narrow, but there was some space visible ahead with none of the scarring on the walls. I had a go pushing further, but didn't have a chance – it was way too tight.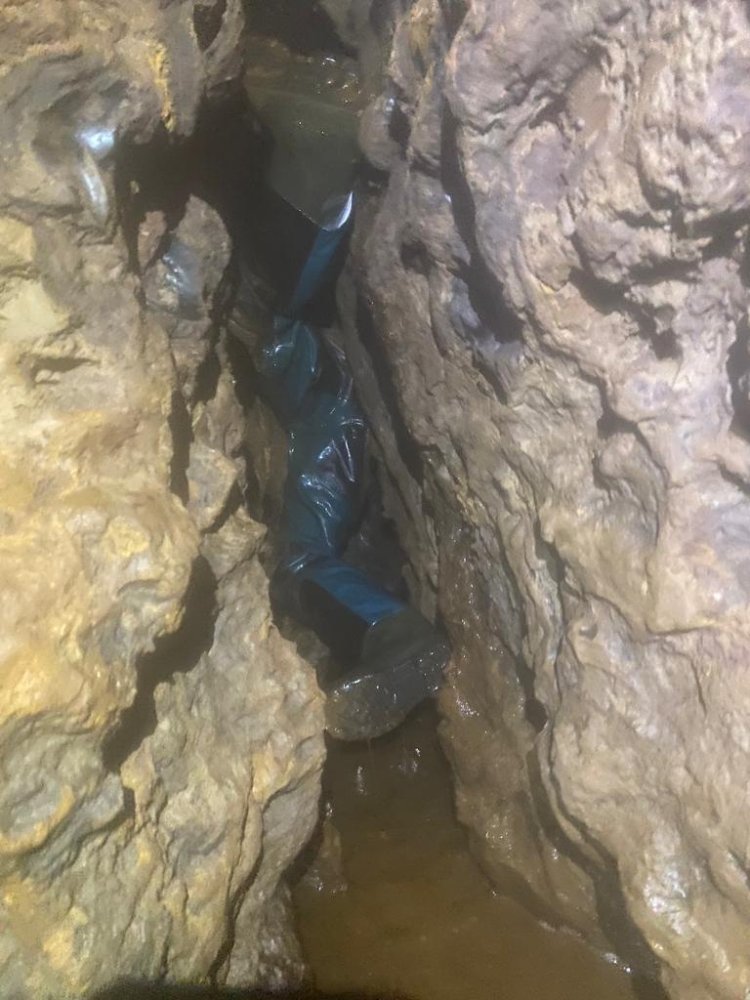 A previous attempt to progress along the terminal rift.
Some of this manganese-covered stuff was relatively soft, and as I'd been thrutching along I was periodically losing handholds and footholds as they collapsed down into the water below. Although these unexpected drops were somewhat unnerving, I couldn't help thinking that if only we had a lump hammer, it ought to be fairly straightforward to widen the rift. Just using my fist, I bashed a particularly unhelpful bulge in the wall just ahead of my face, but it felt irritatingly solid. Reaching further along though, the wall was a bit softer and with some effort I could gouge some bits off. After a minute or so of this I tried moving forwards again. Nope. Still too tight. I pondered heading back out but was loathe to do so given I was still managing to remove some bits of wall in the narrow bit. I kept at it for a bit longer with some minor success. I decided to have one more go at thrutching through, and to my surprise, managed to get my chest through into the enlargement.

By this point the water below was opaque with all the stuff I'd been dropping into it, so with my hips wedged in the tight rift and my shoulders now in the wider section, I desperately felt around for handholds beneath the water to support my weight. Some fell off as I grabbed them, but after a bit of scrabbling I found enough and eased myself forwards into the enlargement, still unable to see if I could get any further. Once out of the squeeze I looked ahead and saw that beyond another slight narrowing it looked to enlarge again. Thankfully this time it looked like it was big enough if I dropped down slightly, so feeling around with my feet for holds I managed to progress, this time chest deep in the water. Ahead was a rare treat in British caving: an unexplored, strongly draughting, walking height passage. Savouring the moment, I walked up into a sizeable breakdown chamber (about 2.5 m high by 3 m wide and 15 m long) with the stream flowing between the boulders on the floor. At the end of this chamber the passage continued (about 2 m x 2 m) similar in character to the passage before the rift. A sharp right turn led to 15-20 m of straight continuing passage, before it turned left, heading off into the darkness ahead of me with the same dimensions. Great stuff.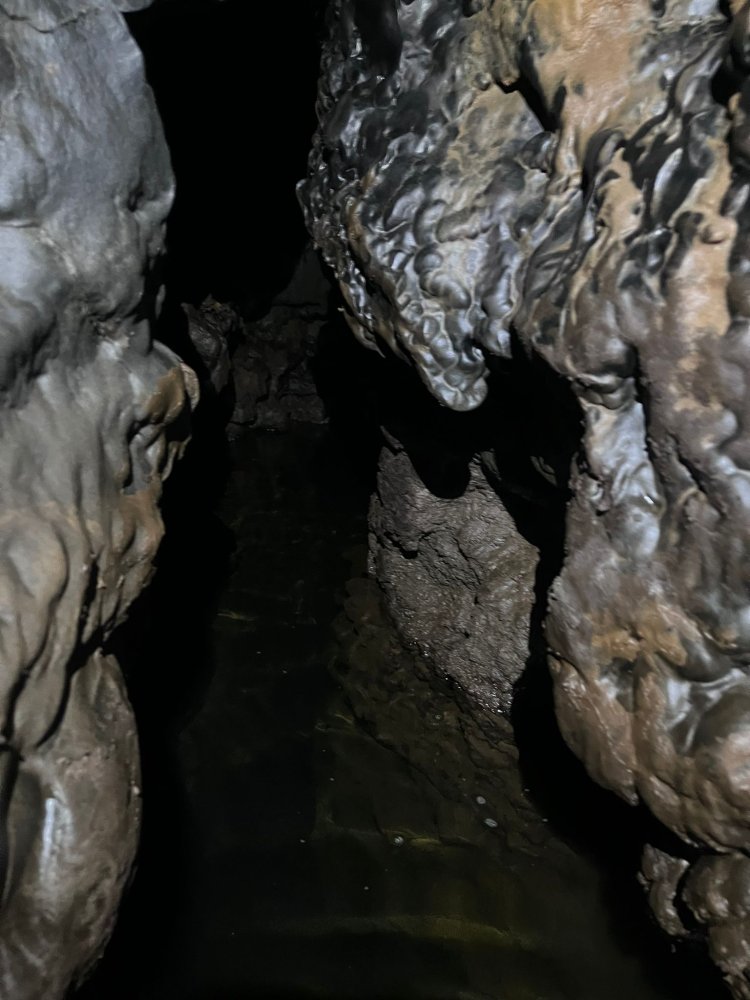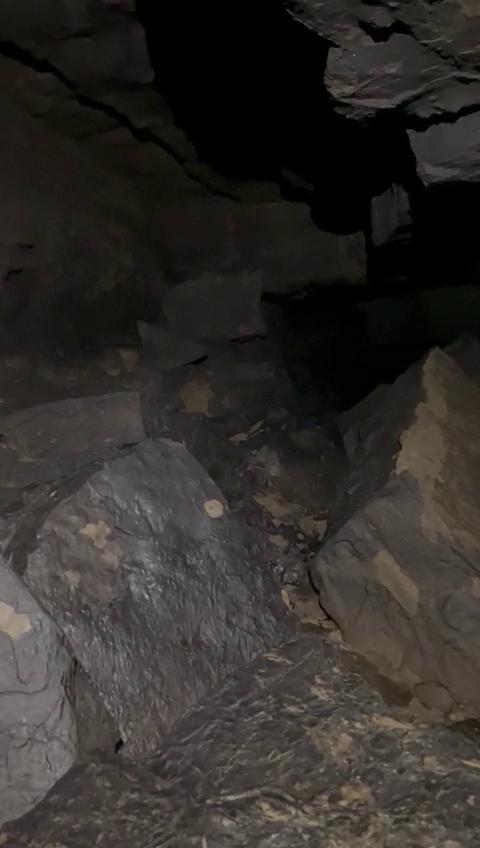 The view from just after the constriction showing the distinctive black walls (left) and the open chamber ahead (right)
I have always felt that if you involve many people in a project people approach problems in different ways, they come up with new theories, and fresh eyes. Most people that I've seen try to tackle the rift, have been of a small frame. Mark approached it differently and just seemed to move forward. This sounds easy - it didn't look easy, it looked strenuous but in no time he was pulling bits of mud off looking like he was almost out of sight. My excitement was hard to contain, but was mixed with the thoughts that if he didn't have a good time in there it was going to be hard to offer any effective help others than words of "I'm sure rescue won't be long" , and, "do you mind if I have another smoke". Mark is a capable lad and was gone! I thought a celebratory cigarette was in order, but while scrabbling around I managed to dislodge myself from my perch and explore the "sump" somewhat more in the water. Considering the draught and my recent ducking I was pleased to hear Mark returning.
I was aware that I was not only a quite a way from the surface, but I was also beyond a constriction that Adele wasn't able to follow through, and I also suspected that the return journey through the rift would be a fair bit harder. I resisted the temptation to stomp on into the unknown and went back to the rift. The return squeeze through certainly wasn't without issue: footholds and handholds were repeatedly failing, each time dropping me down into the water below. Eventually I forced my way back through and told Adele the good news.
It's hard to explain how ecstatic I felt that this had finally been done, yet how nervous it made me think that I would have to attempt it. I've never really believed that the rift could be passed in this way, which is one of the reasons we have spent so much time looking for high level passage. Chatting to Mark it became apparent that the solution was simple, it just needed some mud peeling off and a few tools to widen it. We skipped out of Fairyholes, enjoying the cool air before being met with a red hot wind blasting down the quarry.

It was one of the warmest nights, which caused me to wake up with the heat, and it's fair to say all I could think about was the rift and how to get through it. The next day taking the kids to the shops I drove past the road turn off thinking about the rift. It's strange how my non-caving husband doesn't understand my desire to constantly tell him about the end of Fairy Holes. Light relief came digging in the evening when I could fully download my thoughts to my friends at the North York Moors Caving club, who have also given so much to this project. I could see Chris Twigg and Lee Smith run cover as I asked if they fancied coming at the weekend. As always, they agreed. But the weekend is still so far away this was agony for me.

Step up James Carlisle who agreed to come the next day. James had never been to Fairyholes which made it a win win!
Exploration beyond the breakthrough is underway and ongoing (updates to follow here as and when we find the time to write them). The entrance is on private (non-access) land, but permits are available from the CNCC. If you have a permit coming up and are interested in the cave beyond the previous limit, do just get in touch for info. Fairy Holes is a SSSI but digging has all been with permission.
Last edited: