---
Hi Everyone!


Following on again from last week (where i've both learned alot about both Livestreaming Software, and that Rural Ireland Internet connections of guests tend to go down when you don't want them too) we're hosting another Livestream this Thursday, 28th May 2020 at 8pm on our YouTube Channel. It should last approximately 1 hour.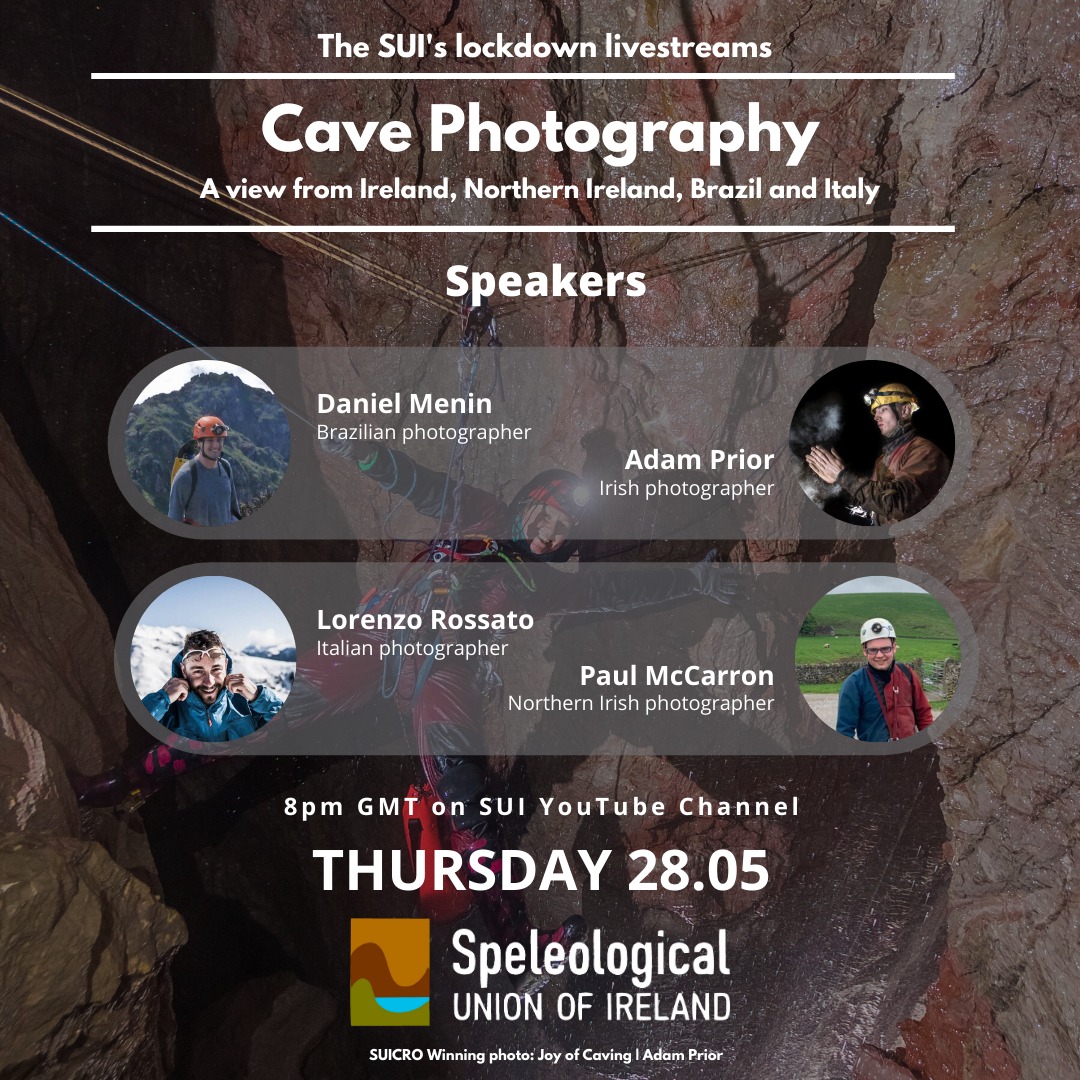 This week's topic is Cave Photography


Camilla Casella our fantastic SUI Secretary (& our host) has managed to bag some interesting guests! Including;


Daniel Menin - A Brazilian Cave Photographer
Adam Prior - An Irish Cave Photographer
Lorenzo Rossato - An Italian Cave Photographer
Paul McCarron [Myself] - A Novice, Northern Irish Cave Photographer
And it is our hope that with this wide range of guests we can have an interesting discussion thoughout the event.
We hope to see some of you there!
A big thank you to all who have provided photographs to make the livestream seem that more sleek this week, including Robert Mulraney and Adam Prior.
If you would like to suggest a topic or would like to come on the event as a guest, please feel free to message us either through the form, or via email:
suipublicrelations@gmail.com
NB: As with all livestreaming events, we hope that everything runs smoothly, however there is still the chance that some of our guests, who will be joining us from Brazil & Italy may have internet connection issues during the event, I apologise in advance and I will be doing what I can to ensure that these do not effect the overall event.
This week, where our guests have a presentation, i'll ensure I have a local copy so that we are able to present and show the slides at the highest quality possible, in the event our guests have to switch to voice only mode!
[/b]